Malta, 25th May, 2017 – Win Systems, a leading technology supplier for the gaming and entertainment industry, will showcase its premium gaming machine range at Juegos Miami, 2017.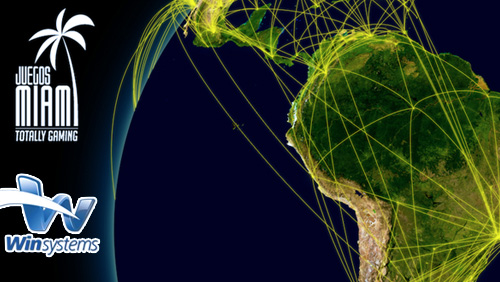 Win Systems' senior personnel will be in-attendance at the three-day event held at The Biltmore Hotel, in order to network with potential partners and showcase its product range, which will be exhibited on stand 16. The stand will host its S2 Plus and S3 gaming machines, built with high-quality design, immersive graphics and sound, as well as wide range of premium gaming content.
The executive team will be on-hand to speak with event delegates on how Win Systems' casino solutions can benefit all types of operation, having already established a strong, successful footprint within Latin America.
After recent successful shows at ICE Totally Gaming, Feria Internacional del Juego and FADJA, Win Systems is set for a strong second half of 2017 with new business partnerships announcements set to be announced in the next few months.
Eric Benchimol, CEO of Win Systems, said: "We are looking to build on the momentum generated at various successful gaming events over the past few months, and Juegos Miami provides us with the ideal platform to do so.
"We look forward to networking with various potential partners and showcasing our gaming products to this year's delegates, as we continue to expand our business operations within Latin America.
"We encourage all visitors to The Biltmore to come to our stand and discuss with our senior team how our casino solutions can cater for all operator needs."
Win Systems will be on stand 16 at Juegos Miami 2017, from 31st May to 2nd June. To organise a meeting please send an email to sales@winsystemsintl.com or call +34 935 308 049.
About Win Systems
WIN SYSTEMS is a global technology provider for the gaming and entertainment industry. The company specializes in systems and services for casinos and lotteries, gaming devices and server based video lottery terminals (VLTs).
WIN offers a full range of technology services, including design, programming, installation, operation and maintenance of its systems.
Win Systems has an extensive track-record of offering the best in class information management systems, recognized throughout the world for providing superior real-time control, stability and reliability for land-based casinos, lotteries, and route operations.
In 2016, Win Systems acquired Gold Club, a global developer and provider of gaming machines and electronic roulette with a presence in over 50 countries worldwide.
The result of the acquisition is an emerging leader in the global gaming industry with a significant footprint in Europe, South Africa and the Americas.
The company is continuously evolving, refining and expanding its product line ahead of market demands, setting trends and creating tools that are becoming essential for its customers' successful operations.
For more information: www.winsystemsintl.com || +1 212 206 9325 || Tw: @win_systems
Comments