20 March 2017 – London (Press Release): iSoftBet, the leading online and mobile casino software provider, today announces the addition of content from UK-based developer Genii to its ever-growing Game Aggregation Platform (GAP).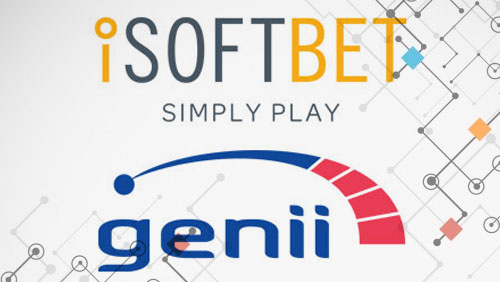 Following this agreement, iSoftBet will now be able to offer operators and players Genii's suite of engaging and interactive video slots. The deal includes Genii's wide variety of game genres including its patented Spin16 games and the industry's first i3D slots.
iSoftBet's Game Aggregation Platform features a vast library of third-party games from more than 25 software providers and offers operators a diversified and robust portfolio that can be used with a single, seamless integration.
Genii uses pioneering technology to provide players with unrivalled levels of engagement and interaction through its game portfolio. Player experience and engagement is at the forefront of all Genii games.
Nick Barr, Sales Director at Genii, said: "Genii continues to penetrate the casino vertical and the demand for more interactive and engagement in games is testament to Genii's growth. The partnership with iSoftBet allows the multitude of operators using GAP to be able to access our games and further increases Genii's reach across the globe."
Michael Probert, Head of Business Development at iSoftBet, said: "GAP continues to move from strength to strength, with an increasing number of players accessing its third-party games every month. The addition of Genii's pioneering games will only enhance our platform.
"We strive hard to maintain the balance between the quality and quantity of the content we offer, and I truly believe our players appreciate the effort we put in to keep bringing them new and impressive titles."
About iSoftBet:
With proven knowledge and experience in regulated markets, iSoftBet is a global powerhouse in the online casino industry. Boasting a remarkable collection of fully licensed and certified Flash and HTML5 mobile games, the iSoftBet portfolio also includes exclusive branded content from some of the world's largest TV and film studios. iSoftBet also offers an unparalleled online and terminal-based sports betting platform alongside an advanced Game Aggregation Platform (GAP) allowing operators to benefit from over 10 additional game providers' content in one swift integration. iSoftBet creates each of its products to ensure that it meets industry standards and combines innovation with experience to provide world class gaming software to its partners.
iSoftBet Contact:
Lauren Bradley
Sales Manager
Email: [email protected]
Tel: + 44 (0) 776 532 4998
Web: www.isoftbet.com
About Genii:
Genii (pronounced jee-nee-ahy) is an independent company piloted by experienced and celebrated pioneers of the industry that are focused on keeping at the forefront of innovation at all times.
Offering revolutionary software solutions, our vision is to remain ahead of the pack as one of the most successful and acknowledged online casino software brands in the iGaming industry. Our team of dedicated, passionate and highly qualified professionals have a broad set of skills to bring value added solutions and deliver expert Game Development, Operational and Customer Relationship Management Systems. These capabilities contribute to establish a solid foundation for any gaming operator, and therefore we are geared towards a seamless integration to assist in establishing a truly successful operation for our Client. With developers all over the globe, Genii effectively deliver, support & successfully create exciting, rewarding and unique gaming products and solutions to any device or operating system around the globe.
Genii Contact:
Nick Barr
Sales Director
Email: [email protected]
Tel: +356 99 61 6004
Web: www.genii.com