Representative of Humaniq project Richard Kastelein will speak in Tallinn
On March 9, one of the leaders of ambitious project called Humaniq, a famous blockchain entrepreneur and journalist, Richard Kastelein will speak at Blockchain & Bitcoin Conference Tallinn.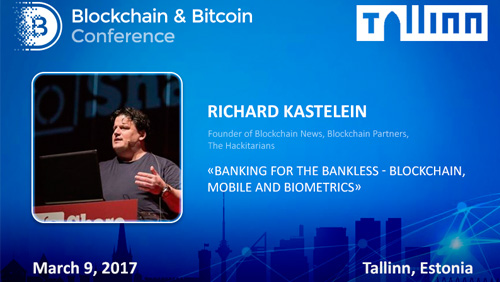 Humaniq is a mobile bank based on blockchain and biometric user identification (without passports and signatures). Blockchain community has called the project Bank 4.0.
It is intended for unbanked people who still use cash only. Thanks to Humaniq, those beyond the global banking system will get access to convenient banking services through mobile applications. Authors of the project believe that a mobile bank will make lives of a billion people from developing countries more comfortable.
Just in the first 12 hours of the crowd sale campaign, which started in 2017, the project raised $65 000. Results will be summarized this spring, and a prototype of mobile application will be launched. Afterwards, the product will be launched in the markets of Asia, Africa, South America, and headquarters will be opened in London and three other cities of the world.
Richard Kastelein is known not only as a representative of Humaniq. Being a blockchain entrepreneur, he founded a specialized media portal Blockchain News, and provides consultancy services to blockchain startups. The government of the UK and the European Commission turn to him for advice in the sphere of innovations.
Richard is a constant speaker at blockchain events in the Netherlands, Belgium, Poland, the UAE and a number of other countries. He is known as one of the leading journalists that research the subject of blockchain and financial technologies.
Apart from Richard Kastelein, the conference will feature presentations from developers and managers of blockchain services for business and government office. Among them: managing director at e-Residency Kaspar Korjus, founder at Funderbeam Kaidi Ruusalepp, and leading engineer at IBM Karolina Marzantowicz.