Week 20 of the English Premier League sees Spurs put the kibosh on Chelsea's plans for Premier League domination with a 2-0 win at White Hart Lane.

Oh, what a difference a game makes.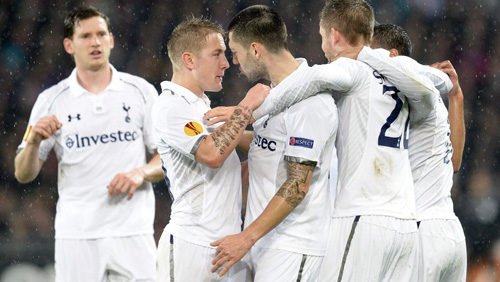 Chelsea could have been eight points clear of Liverpool, and 13 points clear of Spurs while at the same time setting a new Premier League record of 14 straight wins.
Instead, the race for the Premier League winning record books is a little tighter thanks to a side with their own sights set on creating a title crushing winning streak.
Chelsea's lead above Liverpool has been cut to five points thanks to two headed goals by Dele Alli either side of two halves dominated by Spurs. Alli found space to convert a Christian Eriksen cross in first-half injury time, and the pair put the game away in similar fashion within ten minutes of the restart.
Alli has now scored a brace in both of his previous Premier League outings and is the top midfield marksman in the country with ten goals and a single assist. With Harry Kane also bagging ten goals in 20 games, Spurs have the striking ingredients required to mount a serious challenge for the second successive year.
Mauricio Pochettino's side has now won five Premier League games on the trot scoring 15 and conceding only 3. But most importantly they have shown they can beat the very best with home wins against both Chelsea and Man City under their ever-widening belt.
And for Chelsea?
There were signs against Stoke that the juggernaut was starting to rattle. But they have shown enough strength in depth to handle the downs as well as the ups. They still have a two game advantage at the top of the table and the league's top marksman Diego Costa back to his best, hence the reason the bookmakers still make them firm favourites to lift the title at the end of the season.
Premier League Results (Week 20)
Man City 2 v 1 Burnley
Everton 3 v 0 Southampton
Middlesbrough 0 v 0 Leicester
Sunderland 2 v 2 Liverpool
West Brom 3 v 1 Hull
West Ham 0 v 2 Man Utd
Bournemouth 3 v 3 Arsenal
Stoke 2 v 0 Watford
Crystal Palace 1 v 2 Swansea
Spurs 2 v 0 Chelsea
Premier League Table
1. Chelsea – 49
2. Liverpool – 44
3. Spurs – 42
4. Man City – 42
5. Arsenal – 41
6. Man Utd – 39
7. Everton – 30
8. West Brom – 29
9. Bournemouth – 25
10. Southampton – 24
11. Stoke – 24
12. Burnley – 23
13. West Ham – 22
14. Watford – 22
15. Leicester – 21
16. Middlesbrough – 19
17. Crystal Palace – 16
18. Sunderland – 15
19. Swansea – 15
20. Hull – 13
Premier League Title Odds (Courtesy of Bodog)
Chelsea -140
Liverpool +450
Man City +700
Arsenal +1400
Spurs +1400
Man Utd +1600
Comments