Lee Davy brings you updates from the World Series of Poker Main Event as nine players battle it out for the title of poker's Champion of the World and $8m in prize money.

The World Series of Poker (WSOP) Main Event is going the way of starting chip stacks as we lose our third player during Hand #68, and it's Griffin Benger who makes way.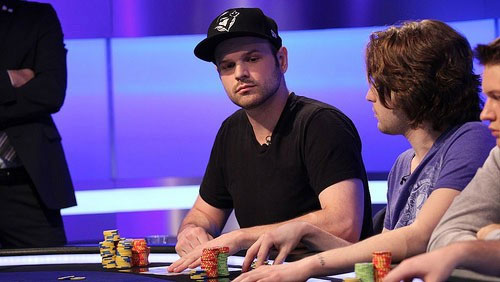 Benger, who was thrust into the world's spotlight after ESPN's coverage of the infamous hand that led to the demise of William Kassouf in 17th place, moves all-in for 7,325,000 out of the big blind after a 2,200,000 button open from Gordon Vayo, and the call is made.
Showdown
Vayo: [Ts] [Th]
Benger: [As] [9s]
Vayo is the 69% favourite. Benger will be looking for an ace or a bucketload of spades. The flop of [9d] [8d] [8h] doesn't contain either, but it does give Benger the opportunity to hit trip nines on either the turn or river. The turn is the [2h], and the river is the [6h], sending Benger crashing out in seventh place.
Remarkably, the WSOP Main Event was the only event that Benger competed in this summer after spending the previous few months as a commentator for the Global Poker League (GPL). It was a wise choice.
Vayo moves up to 50,650,000 (63 bb)
Final Table Payouts
1. $8,005,310
2. $4,661,228
3. $3,453,035
4. $2,576,003
5. $1,935,288
6. $1,464,258
7. Griffin Benger – $1,250,190
8. Jerry Wong – $1,100,076
9. Fernando Pons – $1,000,000