Monday, 15 August 2016, Budapest – The organizers are proud to announce NSoft as one of the Bronze Sponsors of the Central and Eastern European Gaming Conference, which will take place in Budapest on the 20th of September 2016. The event is a Seminar type conference which is designed to encourage a Pan-European dialogue and create an in-depth report of the Central, Eastern and Northern European markets, with an additional Balkans gambling market overview allowing operators and suppliers to monetize the value of their reputations.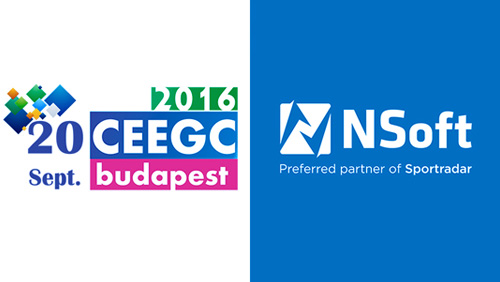 Stjepko Čordaš, Chief Executive Officer at NSoft, stated the following: "NSoft is rapidly growing and expanding its business to Eastern European markets. EEG is our key partner in spreading the word of NSoft out there. We have been working together for about nine months already and are extremely happy with the collaboration that we have established. EEG has shown high professionalism and genuine desire to help us expand our business. Taking part in CEEGC sponsorship is just one small sign of our appreciation. Of course, we are supporting their initiative to organize this kind of conference which will put the focus on the Eastern European region that needs to have the firsthand information on the latest trends in gaming and betting industry. We are really looking forward to CEEGC 2016, and a long and successful cooperation with EEG."
NSoft provides top quality software solutions for gaming and betting industry, including platform, virtual games, sportsbook, and lotteries. Our unique approach to customers and creative software solutions positioned us as one of the top providers of innovative products for gaming industry. A combination of great products, great people, and great culture played a key role in our growth. We understand that strong and long-term partnerships are essential for further development, so we joined forces with world's leading sport data provider – Sportradar.
This means our products are available through Sportradar's sales channels.
NSoft Portfolio:
• SEVEN Platform
• Virtual Games
o Lucky Six
o Lucky X
o Greyhound Races
o Virtual Greyhound Races
o Virtual Horse Races
o Virtual Drag Races (UPCOMING)
• Sportsbook
o Pre-Match Betting MTS
o Live Betting MTS
• Lotteries
o World Numbers Service (Developed in partnership with Betradar)
• Betradar (games available through NSoft's sales channels)
o Virtual Football League
o Virtual Tennis Open
o Virtual Basketball League
It is NSoft's mission to provide betshop owners with powerful and visually appealing platform, amazing virtual games, and data-packed sportsbook, and help them grow their business. By developing our state-of-the-art software solutions we are devoted to creating a business environment which will maximize our customers' sales opportunities and empower their company to reach new levels of growth. Our ambition is to continue building value for customers, stakeholders and partners.
Zoltan Tundik, Head of Business at EEGaming – Eastern European Gaming and founder EEGMedia, – organizers of the conference, stated that: "Given the fact that we are organizing our first event, many large companies of the online gambling industry have shown their interest in attending or sponsoring the event. We have entered the online gambling media industry 1 year and 8 months ago with the mission to help and improve the information spread across the industry and having such partnerships makes up for the months and months of 16-18 hours of daily grind our team has put in to keep up with all the latest information. Getting such feedback, really makes us proud for what we achieved and we are just getting started….only loaded 15% of the knowledge we possess….there are great times ahead and we look forward to shaking hands with the future of gaming! Stay tuned for more announcements in regards to the CEEGC 2016!"
Be sure to save the date and secure your ticket to the CEEGC 2016 Budapest, which will be held on the 20th of September 2016 at the Hilton WestEnd City Budapest
The conference provides an efficient way of meeting new and prospect clients in the special networking session and sit down lunch.
Special reports and exclusive updates will be given by the top 20 speakers of the industry and the event is limited to 150 delegates to maximize the engagement among the peers.
The tickets can be purchased at an Early Bird rate of €200 by the 19th of August on the following link: https://ceegc.eu/2016/tickets/
Should you have any questions, please don't hesitate to contact us on +40 735 559 234 or by mail on [email protected].
For more details please visit the official website: www.ceegc.eu or book your tickets online www.ceegc.eu/2016/tickets/
WE LOOK FORWARD TO SEEING YOU IN BUDAPEST!