Charity Series of Poker founder, Matt Stout, shares his thoughts on the difficulties of running a non-profit coupled with the joy and value that it brings to his life.

There is a charitable buzz flittering around poker. It's a relatively recent phenomenon, but there is one poker player who was struck by the bug long before he came into the game.
Matt Stout is the founder of the Charity Series of Poker (CSOP) and a man who has been thinking of ways to help others since his teenage years.
What I love about this man is he hasn't figured it all out and didn't let that stop him. Like all the smart cookies he figured out that taking action is the best way forward. He is learning from his successes and failures, and I caught hold of him to understand what makes his charitable heart tick as he prepares to partner with the Maximum Hope Foundation (MHF) at the Seminole Hard Rock Poker Open.
In the past, the CSOP has supported Habitat for Humanity and various Food Bank charities, why the switch to MHF?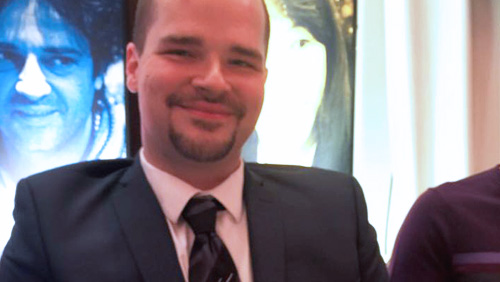 "While Habitat for Humanity was the first charitable organization I was ever involved with, I love their work, and it'll always hold a special place in my heart, I have decided that the Charity Series of Poker should look for other organizations to support for two main reasons. Habitat for Humanity International is somewhat ineffective when it comes to usage of funds, spending more than I believe to be necessary on administrative costs rather than minimizing those costs so that more money can go to building homes for the less fortunate. Habitat International is also so anti-gambling that they once literally told Bernard Lee to keep his money after he tried to call them to donate over $3,000 he'd raised in a charity event for them. We typically donated to local Habitat for Humanity chapters in the past which use the money more effectively and are not anti-gambling, but I've finally come to the difficult conclusion that if the main organization doesn't want us to raise money for them, I don't want to support their organization on any level.
"I will, however, continue to support food banks because they are a cause that's near and dear to my heart. A lot of people simply think of soup kitchens and the homeless when they think of food banks. Although that's a big part of what they do, many people don't realize that these food banks are also helping struggling families and children who are going hungry. Food banks also tend to be extremely effective in their use of funds since there is such an incredible amount of food being wasted in this country that the food banks almost never have to pay for food, just process and transport it. We proudly support Three Square food bank with our Las Vegas event and will continue to do so and have supported the Community FoodBank of New Jersey with our Borgata CSOP event.
"Even though I've typically chosen the big name, recognizable charities to support thus far for Charity Series of Poker events I've decided to give the MHF a shot at our Seminole Hard Rock Poker Open event this year. I'd never met Brad Garrett, the charity's co-founder until he eagerly accepted my invitation to attend our CSOP event in Las Vegas last month and did his best to help us promote it. In turn, I decided to attend his annual tournament benefiting MHF where I not only saw what a great job they did running their event but got to know a little more about the people behind MHF and what they do. In short, Brad once had a friend who had a terminally ill child. The co-pays alone of caring for the child forced the parent to choose between living expenses and caring for their child which is decision no human being should be forced to make. Brad helped his friend through this tough time, and that became the impetus for the creation of the MHF. After hearing this story and learning that they have minimal overhead and just one employee, MHF's co-founder Kimberley Evans, to ensure that as much money as possible goes to helping these families I talked it over with the Seminole Hard Rock and we made a mutual decision that it was a cause we wanted to support together."
What are the main learning points you have taken from your CSOP experience?
"I've learned that I still have a lot to learn. I was studying business management in college when I found poker and have applied a lot of what I learned about the business side of professional poker with things like bankroll management and game selection, networking, sponsorships, and coaching other players. CSOP is my first full-fledged business venture, and it has been a lot more work than I thought it would be, but also a lot more rewarding than I ever imagined too so it balances out nicely. I've gotten a lot of help from Al "AlCantHang" Rash who has volunteered to take some of the day-to-day work off my plate, but I'm still looking into hiring a part-time employee who is a marketing genius and can help grow CSOP while teaching me about marketing strategies. While we've gotten a ton of support from the poker community, I still need to work harder and figure out the best strategies to tap the market or recreational players and charity supporters who don't often come to casinos."
What are the difficult aspects of creating a non-profit charity?
"I would say that it's pretty simple to create a non-profit, but that making it come to life is the challenge. It's not easy to make people care, and you can't get much done as a one-person show. You have to believe deeply in the cause(s) you're fighting for, or you're just not going to find the motivation and energy to get people on board and to see all of your tasks and projects through. You need to find constantly the humility to go to people who know more than you about a subject and ask them for advice. Like Isaac Newton said, "If I have seen further it is by standing on the shoulders of giants." I knew nothing about running a real charity poker tournament that wasn't in a dormitory lounge when I started this. The only reason our events have been a success is that I've taken advice from a hundred different people, ideas from a dozen different charity poker events, and input from out host casinos and meshed what I liked together into the events we run today. Murphy's Law will seem to be in full effect at times especially early on before you work out all of the kinks in your respective organization, but when you love what you're doing and see the people you're helping with your own eyes it makes it all worth it tenfold."
What advice would you give to people wanting to create a non-profit charity?
"Firstly, I would tell them to find a cause they truly believe in and feel very passionately about. Next, I would tell them to find a mentor to help them along the way. Finally, make sure you have twice as much time as you think you need to create and run it (or at least the extra cash to pay an employee to do so). You also want to be sure to create a board of directors comprised of people who are knowledgeable in the field you're in and whose opinions you hold in high regard. I would also encourage them to make sure they're fiscally responsible. Far too many charitable initiatives have their hearts in the right place but spend far too much money unnecessarily instead of making sure that as many cents on the dollar as possible go directly to helping people who need to be helped, researching cures for diseases, or whatever the cause may be."
What's your opinion on some people's view that it's better to earn more when you are young so you can give more when you are older?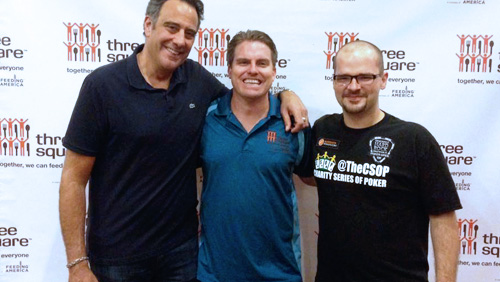 "I think it makes sense to build a strong nest egg when you're young before you begin giving to charity since you always need to look out for number one and because of the effect of compounding interest but that it's all relative. Even the compounding interest is mitigated by inflation. I started the CSOP when I was 29 years old, but in reality I had the plans in the back of my mind for it when I was just a 19-year-old college kid who was playing $5 sit-and-go tournaments in class, watching Rounders, dreaming of going pro, and running a $10 rebuy fundraiser tournament as the Vice President of The College of New Jersey's chapter of Habitat for Humanity.
"I had some minor success online during college. My pro career took off when I was 21 in the casinos of Atlantic City, and I can even remember discussing the idea of running charity poker tournaments with Jack Effel when I was 21 or 22, and he was still running $300 WSOPC events in AC. I wanted to make sure that I had at least a decent nest egg before I started the CSOP. I began to feel like I was ready financially and ready for the time commitment when I was around 25. I started putting serious thought into it, but Black Friday turned my world on its side, and once I made the decision to move outside the country to be able to continue playing online poker I knew I would have to put the idea of running charity poker tournaments on the back burner. Since I'm likely to settle down and have kids in the coming years, I believe I started the CSOP at the perfect time in my life, and, as Anne Frank put it, "No one ever became poor by giving."
"For me, the type of charity I wanted to start required me to be hands-on and to be travelling a lot so it made sense for me to get the ball rolling while I was still relatively young and before I've fully settled down.
"I also don't think people should look at this as an either-or decision. I'm putting a significant portion of my earnings into the CSOP, but not so much that it prevents me from doing my fair share of saving, investing, and retirement planning. I look forward to the day that I've become so rich that I can afford to put huge sums of money into other charities I'd like to start and/or support, but I'm also glad that I'm able to help some people on a smaller scale with CSOP in the mean time."
What does the future hold for CSOP?
"I want to continue to grow our events as I seek out more worthy charitable initiatives to support and am starting to look toward effective giving. I look forward to adding a couple more stops to our annual tour and already have been in talks with two properties I think would do a great job of hosting out events. I can't wait to find a marketing wizard with a true passion for charity who wants to see this thing grow as much as I do. Most of all I truly hope that, as we continue to grow, we don't lose the amazing vibe we have amongst the players and celebrities who show up. I can honestly say that some of the best times I've ever had and by far the most fun I ever have playing poker is at our events, and I have proudly listened to recreational players tell me the same. There was a point during the last CSOP event at Seminole Hard Rock in Hollywood, FL — our first event to draw over 200 entries — that I tweeted out my honest thought: The CSOP has officially taken on a life of its own. At that moment I felt like the CSOP was no longer something I was struggling to pull together and figure out how to run and that it had become far bigger than myself. I may be the 'face' of the CSOP, but I say, "we" when I speak about the organization not only because of the team of people helping me behind the scenes, but all of the players and celebrities who have come out, supported, and made this thing into what it is."