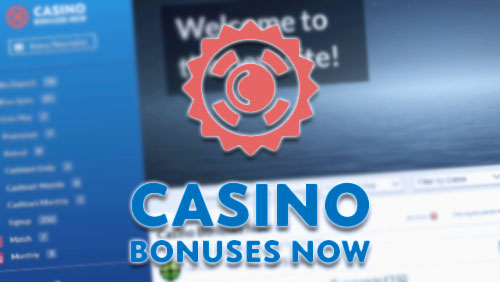 CasinoBonusesToday.com has not only relaunched but fully rebranded as well to become CasinoBonusesNow.com. The relaunch is focused around a new design with the user experience as the focal point. The new site just has a better layout and simplistic design. The goal of the site remains the same to give casino players offers that matter to them and offered by recommended casinos.
"The original CasinoBonusesToday design was a lot of work to launch which lead to the initial success of the website. 3 years later, even more work was put into the new design to take the site to another level amongst the biggest casino portals around. Under the hood the site uses a more efficient php framework along with Redis to improve the site loading speed but there is always more work to do to make the site even faster. Overall the new site has a new framework which will be the template to make improvements, do A/B split testing and push the boundaries of conversion rate optimization." John Wright

The website was designed by HorseshoeAgency.com and features drastic improvements from the previous site at casinobonusestoday. The sites has a bigger improvement in user experience design where the bonus listings has less detail for users to focus on while the casino reviews are better structured to help users decide which casino to play at. There are more planned added features that will become part of the core USPs of the site which will include a player forum and casino tournaments.
A Better Mobile Experience
More and more casinos and casino portals are seeing more mobile traffic so it was only natural to improve the user experience for mobile users. The new site takes mobile users into consideration to make it easier for them to navigate the site and find relevant casinos for them.
Tougher Criteria for Casino Recommendations
Along with a new design, the site aims to list every online casino that exists and the criteria for getting recommended is tougher. This tougher criteria is meant to help players make better decisions on which casinos to choose. Too many casino portals promote and recommend casinos that have predatory terms and conditions for players. At CasinoBonusesNow (CBN), we relay on the research and player terms and conditions from thepogg.com to truly know how a casino treats their players.
About CasinoBonusesNow
CasinoBonusesNow.com was created not just to focus on casino bonuses but on the retention aspect of bonuses for players as most casino bonus portals focus on new player bonuses. At CasinoBonusesNow, the site will cover any relevant promotion for players and of course focused only for recommended casinos.