SEATTLE – July 28, 2016 – FlowPlay, creator of the most powerful immersive gaming platform, today announced that its most recent in-game giving campaign resulted in a donation of $20,000 for Homes for Our Troops, a non-profit organization that provides Veterans with mortgage-free specially adapted homes to help them readjust into society. More than 30,000 players in FlowPlay's flagship social casino Vegas World participated in the month-long campaign, which was designed to help fund construction of new homes for U.S. Veterans.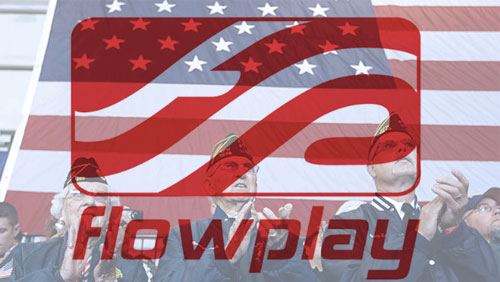 Since early 2015, FlowPlay has tapped into its dedicated player base to conduct numerous in-game fundraising campaigns, raising a total of nearly $100,000 for non-profits. The campaigns have supported a range of causes, including STEM education for young girls and free transportation to treatment appointments for cancer patients. The Homes for Our Troops fundraiser reached the milestone of more than 600,000 uniquely branded Vegas World charms purchased to date for non-profit fundraising.
"When FlowPlay approached our organization to host a fundraiser, we were happy to have them on board," said Monica Sweeney, Community Fundraising Coordinator. "Their support will assist us in providing severely injured Veterans with specially adapted homes, allowing them to regain their independence and rebuild their lives."
As a result of a month-long campaign that kicked off over the July Fourth holiday weekend, players purchased more than 100,000 exclusive home-themed charms, for which 100 percent of the proceeds were donated directly to Homes for Our Troops. Coming together to support a great cause, the Vegas World community created more than 700 in-game parties requiring the purchase of the branded charm to participate.
"From the start of this campaign, we knew the Vegas World community was going to fully embrace this cause, as it was one our players have repeatedly expressed a passion for," said Derrick Morton, CEO of FlowPlay. "The ongoing support and enthusiasm from our players drives us to continue partnering with great organziations like Homes for Our Troops to help rebuild the lives of those who serve and protect our country."
To learn how to get involved or donate to Homes for Our Troops, please visit: https://www.hfotusa.org/get-involved/support_our_mission/
About FlowPlay
FlowPlay is the company behind the most powerful immersive gaming platform for casual and sports wagering games, virtual worlds and social casinos. A developer, operator and publisher, FlowPlay serves both consumers and businesses with engaging online and mobile free-to-play experiences. Partners turn to FlowPlay for its extensive multiplayer infrastructure, industry-leading monetization rates and proven track record helping businesses launch custom-branded online games. FlowPlay's consumer products include ourWorld, one of the most popular teen virtual worlds, and Vegas World, the industry's most engaging multiplayer social casino. Together, they have been played by a loyal community of more than75 million users around the world. FlowPlay dominates a cross-section of industries including online and mobile games, fantasy sports and casinos – consistently creating opportunities in high-growth and emerging markets. Based in Seattle, FlowPlay was founded in 2006 and is primarily funded by Intel Capital and the creators of Skype. For more information, visit www.FlowPlay.com or contact [email protected].
About Homes for Our Troops
Homes for Our Troops (HFOT) is a privately funded 501(c) (3) nonprofit organization that builds specially adapted, mortgage-free homes nationwide for the most severely injured Veterans from Iraq and Afghanistan. Most of these veterans have sustained life-altering injuries including multiple limb amputations, partial or full paralysis, and/or severe traumatic brain injury (TBI). These homes restore some of the freedom and independence our Veterans sacrificed while defending our country, and enable them to focus on their family, recovery, and rebuilding their lives. Since its founding in 2004, nearly 90 cents of every dollar donated to HFOT has gone directly to our program services for veterans. HFOT builds these homes where the Veteran chooses to live, and continues its relationship with the Veterans after home delivery to assist them with rebuilding their lives. For more information visit www.hfotusa.org.