Monday, 25 July 2016, Budapest – The organizers are proud to announce that Valéry Bollier will be among the speakers of the "Hot Topics of the Online Gambling Industry in Europe" panel at the CEEGC 2016 which will take place in Budapest on the 20th of September 2016.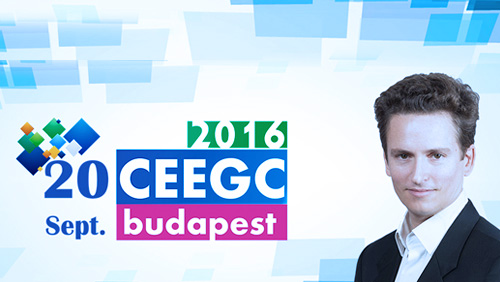 The conference is specially designed to bring the most recent legal news and discuss the current hot topics which is relevant for online gambling operators, investors, online gambling software developers, gaming press reporters and regulators.
Valéry Bollier has over eleven years of experience in the iGaming industry. He is a regular speaker at industry conferences and seminars, as well as a contributor to various BtoB publications. Equipped with a passion for Daily Fantasy Sports (DFS) and "Big Data", Bollier is the co-founder and CEO of Oulala, a revolutionary fantasy football game which was launched three years ago.
In a recent interview in our EEGReport Magazine, Valéry stressed on the Daily Fantasy Sport's rise in the European markets. Below you will find a fragment of the interview which you can read in full here.
EEGaming(Zoltan Tundik): Since our last interview, your daily fantasy football platform is now available to consumers in the UK. How big of an impact has this been to your user base?
Valéry Bollier: Following Oulala's launch back in 2013, we engaged in a discussion with our customers for 2 years with the purpose of adapting our concept in accordance with what they wished for. Additionally, this time was utilised with the purpose of demonstrating and proving that Oulala was indeed a true game of real skill as opposed to a game of luck falsely advertising itself as a skill game. The fundamental factor contributing to our future success is actually delivering on what we promise our customers: "With Oulala, for the first time, you can prove that you know football better than your friends!"
October 2016 saw the launch of the monetised version of Oulala, marking the next logical step in the road for us: breaking into the UK market. This is significant for a number of reasons, namely that besides the strong passion its people hold for football and playing money on it, the English Premier league itself is indubitably the most popular football league in the world. More importantly, however, is the fact that the current fantasy sports leader in the European market is none other than the UK itself. While season-long fantasy football games have long been a cultural activity that people have been accustomed to so far, one can expect the transition into a more appealing daily format to go quite smoothly.
So far, Oulala has successfully attracted over 25,000 registered users (free and monetised). Our next goal to focus on is developing Oulala in BtoB. Recently, we launched a white label version of our game, including a turnkey solution version and an API version. Moreover, we have already begun building partnerships with iGaming operators in numerous countries such as Italy, Australia, France and Cameroon, among others, allowing them the possibility to offer our game to their own customers. The surprising response from the iGaming sector towards our offer has spurred us on into focusing all our energy into our BtoB offer.
EEGaming(Zoltan Tundik): How do you think the markets in Europe are reacting to DFS in terms of licensing? We see a lot of talks that some countries might categorize it as gambling and grant 1st tier licenses.
Valéry Bollier: As anticipated, the market moved at a far quicker pace than the legislators, meaning that Europe's national regulators have yet to adapt to the new reality coming into place. More often than not, DFS tends to be considered a 'pool betting' activity, therefore in order to safeguard our young industry, it is crucial that we push for a legal frame adapted to our specific function from the Gaming authorises.
In a Kafkaesque twist of events, if the goal is to operate a DFS game in the UK then offering your game in the USA will not be permitted. Considering how huge DFS is in the USA, the current situation seems rather ridiculous.
Evidently, our industry requires a tailor-made DFS license, one that should only be granted to companies who are successfully able to prove that theirs is a real skill game. It is imperative that legislators exert caution when selecting operators, basing their decision on the quality of their game and the scoring system, holding the accuracy of a DFS game as the factor of paramount importance.
A DFS license should only enable proven skill games to offer white label version of their game to third parties. Oulala is currently one of the few that offers one available to the market, however other companies will soon follow suit, hoping to launch their game through partnerships.
It is in the interests of both the operators and the players that there is proper legislation in place. This would help the system from following the same path that poker did, in that the system should not allow any unfair advantages to the professional players over casual players.
We have already spoken to European legislators about our sector's needs. Unsurprisingly, Malta was the first country with a positive reaction towards our suggestions, following up with a specific game license being launched by the MGA later this year. This will be undeniably be a huge step forward in the development of fantasy sports in Europe, also placing Malta at the centre of action for DFS operators.
We are currently working on creating an International Fantasy Sports Association (www.infsa.org). The goal is to highlight that by offering a specific license for our sector, European countries will reap the benefits that emerge from the evolution of this new sector.
EEGaming(Zoltan Tundik): What is the current global size of the DFS market?
Valéry Bollier: Fantasy sports are an estimated €23 billion industry in the United States, with around 57 million fantasy sports players in the US and Canada. It is anticipated that market leaders Draftkings and FanDuel will respectively pay out over a billion dollars in prizes to fantasy-obsessed players this year while also putting tens of millions of dollars into advertising that will keep building the market. There may only be a small group of traditional players that play daily fantasy sports, however Eilers Research shows that daily games will generate almost €2.3 billion in entry fees this year and continue to grow 41% annually, thus reaching an astounding €12.8 billion in 2020.
The DFS landscape in Europe is only beginning to rise, with the UK as the leading market for fantasy sports in the EU. With the English Premier league as the most popular season-long fantasy sports operator, it gains an immense amount of coverage by newspapers that follow it including Sky Sports, The Sun, the Daily Mail and the Daily Telegraph.
The total number of players stands at approximately 5 to 8 million season-long fantasy users, a number this is significantly smaller than the US. With only 3 to 5% of these currently playing DFS, the situation presents a potentially substantial market to tap into. As mentioned earlier, other countries have already begun to open their doors to DFS, with the influx of new operators being a direct result of that.
An even bigger market that present itself to DFS is none other than sports betting. Morgan Stanley's research last year revealed that legal sports betting is valued at over $100 billion annually.
Thus, current iGaming operators shouldn't think of DFS as a substitute to sports betting but rather as a good opportunity.
For instance, our BtoB platform provides a plug and play white label solution for iGaming operators that are hoping to enter our evolving sector by proposing DFS games as complementary products to their own existing operations. I anticipate an abundance of sports betting punters and poker players that will have direct access to DFS through their usual iGaming sites before the year ends. I am certain that the market will truly benefit from this BtoB strategy and will go on to boost the European DFS evolution.
…………..Read more….
Be sure to save the date and secure your ticket to the CEEGC 2016 Budapest, which will be held on the 20th of September 2016 at the Hilton Westend City Budapest Hotel in order to hear the fresh and recent information Valéry Bollier is going to discuss about Daily Fantasy Sports. The "Hot Topics of the Online Gambling Industry in Europe" panel is going to start at 14:45(Hungary local time) and brings together top names of the industry, such as Mark McGuinness, Tal Itzhak Ron, Tom Light, Alexandre Tomic, Ivan Kondilenko and will be moderated by Paul Davis. The conference provides an efficient way of meeting new and prospect clients in the special networking session and sit down lunch.
Special reports and exclusive updates will be given by the top 20 speakers of the industry and the event is limited to 150 delegates to maximize the engagement among the peers.
The tickets can be purchased at an Early Bird rate of €200 by the end of July on the following link: https://ceegc.eu/2016/tickets/
Should you have any questions, please don't hesitate to contact us on +40 735 559 234 or by mail on [email protected].
For more details please visit the official website: www.ceegc.eu or book your tickets online www.ceegc.eu/2016/tickets/
WE LOOK FORWARD TO SEEING YOU IN BUDAPEST!