The 2014 World Series of Poker Player of the Year runner-up has made his mark on the 2016 festival by winning the Pot Limit Omaha 8-Handed Championship, and most importantly, he did it the right way.
The year is 2014, and Brandon Shack-Harris is closer to the top of the world as he has ever been. With nine cashes, five final tables, and his first-ever gold bracelet, earned after beating 1,128 entrants in a $1,000 Pot-Limit Omaha (PLO) event, he finishes second to George Danzer in one of the most riveting finishes to a Player of the Year (POY) race in recent times.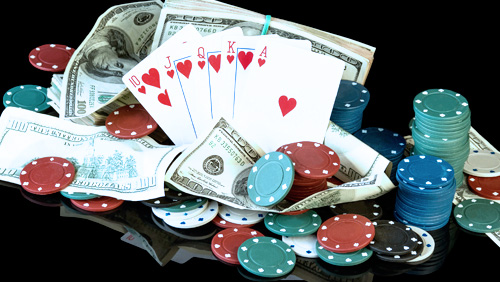 And yet, quite remarkably, there were some doubts from the terraces. Shack-Harris's four close shaves, including two runner-up finishes to John Hennigan in the Poker Player's Championship, and that man Danzer in the Seven Card Razz Championship, prompted some to question whether he had what it took to 'get the job done'.
He made the final table of the Razz Championship again in 2015, finishing a disappointing eighth, but overall his festival was low-key compared to the fireworks that had flown out of his fingertips 12-months before. So many have come to the WSOP promising so much and then failing to deliver underneath the weight of pressure.
Was Shack-Harris going to be one of those people?
I think he has just answered that question in emphatic style.
That incredible journey in 2014 began with that bracelet win in the PLO. It was Hand #149. Shack-Harris and Morgan Popham, a young man who was making the first in the money (ITM) cash of his career, got it in pre-flop, and when the cards flipped over, Shack-Harris could have thrown up in his mouth.
Shack-Harris: [Ac] [Kh] [Kc] [5s]
Popham: [Ah] [Ad] [Th] [5c]
It was a bracelet defining moment. Shack-Harris had walked into the cooler of his life. He was dead, and he knew it. The deck, however, had other ideas.
The [Qh] [8d] [6d] removed Shack-Harris's club flush draws, but the [Jd] on the turn gave Shack-Harris a straight draw, but it also removed his king outs, as it would have provided Popham with a straight. There was only card in the deck that could save Shack-Harris, and it was the [Tc]. It seems the Poker Gods were on his side that day because that exact card peeled off the deck to leave Popham without a single chip. Shack-Harris was the newest member of the gold bracelet club.
Looking back on that victory, two years later, Shack-Harris told WSOP officials that it was not the way to win a WSOP bracelet.
He wanted to put that wrong right.
Popham wasn't the only player who left that tournament with some healing to do. Loren Klein, a PLO specialist from Nevada, also entered that final table with dreams of grandeur. Steve Billirakis pulled them from his mind and stamped them to death with an eighth place exit.
Two years later and Klein is back for retribution. After cashing in three events, for piddling amounts of cash, he enters the $1,500 Mixed No-Limit Hold'em/Pot Limit Omaha event and defeats 919 entrants on his way to his first gold bracelet.
And then in Event #51: $10,000 Pot-Limit Omaha 8-Handed Championship the pair are once again sharing a final table at the summit of the greatest poker festival of them all. Shack-Harris is searching for his first bracelet win since that fateful day in 2014, and a desperation to finish things in the right way, and Klein is coming off a wire-to-wire gold bracelet victory six events prior.
It was always going to be special.
400 entrants created a prize pool of $3,760,000, and that meant the winner of this event would walk away with $894,300, making it one of the largest prizes of the 47th Annual WSOP.
Shack-Harris and Klein were the most experienced players at the table and the only previous winners of gold. After Shack-Harris eliminates Tommy Le in third, he takes a 2:1 chip lead into the heads-up battle with Klein.
"I don't want to face Klein heads-up," Shack-Harris would later tell a WSOP reporter. "He is a special player; with an unorthodox style. He plays street PLO."
The pair battled it out for over 90-minutes.
Klein's 'Street PLO' managing to level things before Shack-Harris pulled away again. But he couldn't shake Klein, who levelled things for the second time, and a third time, before the pair clashed in a fatal hand.
Klein called on the button, Shack-Harris raised the pot, and Klein called. The flop was [As] [Ts] [8c] and Shack-Harris bets pot, Klein moves all-in, and Shack-Harris makes the call.
Shack-Harris: [Ad] [Td] [6d] [4d]
Klein: [Ac] [8s] [6h] [3h]
Klein has flopped top and bottom pair, but Shack-Harris has flopped the top two pair. Unlike two years ago, Shack-Harris doesn't need to suck out to win; he needs his hand to hold. The [2d] hits fourth street, and the [Js] finishes things off. Shack-Harris's hand holds and it is the Chicago pro who wins his second bracelet-a moment he would later call 'the most gratifying' of his career.
Final Table Results
1. Brandon Shack-Harris – $894,300
2. Loren Klein – $552,713
3. Tommy Le – $376,667
4. Melad Marji – $261,652
5. Matthew Parry – $185,337
6. Harley Stoffmaker – $133,918
7. Junayed Khan – $98,748
8. Dominique Mosley – $74,339
James Obst finished 10th; Max Silver finished 12th,rd and Jason Mercier extended his lead at the top of the WSOP POY Leaderboard with his 10th cash finishing in 36th place.