Belgian Michael Gathy has won his third World Series of Poker bracelet in a $5k Six-Handed event; Adrian Mateos has won his second bracelet in the Summer Solstice event, and Australian Martin Kozlov prevents Davidi Kitai winning his fourth bracelet in the $10k Six-Max No-Limit Hold'em.

Adrian Mateos has become the second Spaniard to win a bracelet this summer, after taking down the $1,500 No-Limit Hold'em Summer Solstice event.
Mateos joins Cesar Garcia as the second Spaniard to triumph at the 47th Annual World Series of Poker (WSOP) after topping a field of 1,840 entrants banking a $409,171 first prize. Only three Spaniards have ever won WSOP bracelets with Carlos Mortensen making up that triumvirate.
Mateos owns two WSOP bracelets, and his loved ones are yet to poke 22 candles into the icing – that happens sometime next week. His first came when he won the World Series of Poker Europe (WSOPE) Main Event in 2013 for €1m. His victory in the Season 11 European Poker Tour (EPT) Grand Final, where he won his second €1m first prize, means he is only a World Poker Tour (WPT) title away from a Triple Crown.
And the clock is ticking.
They call him The Beast because that's what he is. His latest victory sees him surpass the $4.7m live tournament ITM mark, and he is still only a baby. What a future this young man has in the game. It's incredible to think that policy makers believe poker is a game of chance with such cast iron evidence waving bracelets in their faces.
Final Table Results
1. Adrian Mateos – $409,171
2. Koray Aldemir – $252,805
3. Alessandro Borsa – $182,835
4. Ralph Wong – $133,588
5. Jon Turner – $98,617
6. Jackson White – $73,563
7. Ronald McGinnity – $55,455
8. Stephen Ladowsky – $42,252
9. David Tovar – $32,540
Other stars who shone brightly in this particular sky were Martin Kozlov (11th), Chris Moorman (13th), and Jason Wheeler (14th).
Michael Gathy Wins Event #35: $5,000 No-Limit Hold'em Six-Handed
It's been a solid week on the sporting front for the land of Tintin and really, really, good French Fries.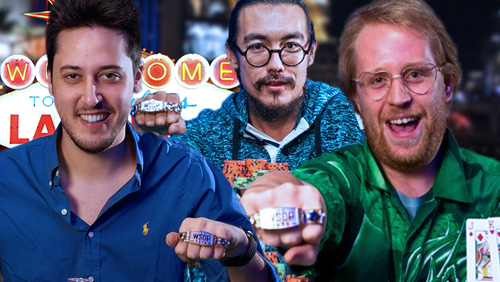 The 4-0 demolition of the Hungarians means only Wales, Poland and/or Portugal stand in Belgium's way of making the finals of Euro 2016, and on a slightly different green coloured surface Michael Gathy was winning his third WSOP bracelet in Event #35: $5,000 No-Limit Hold'em Six-Handed.
Gathy comes alive at the WSOP.
He beat a 2,799 strong field to capture the first prize of $440,829 in a $1,000 No-Limit Hold'em event back in 2012. He returned the following year to beat 1,629 entrants in a $1,000 No-Limit Hold'em Turbo event for $278,613, and two years later he has nailed bracelet #3 and the largest score of his still blossoming career.
Only two Belgian players own WSOP bracelets, and the pair of them now have three each. Belgian's all-time money earner; Davidi Kitai, is the Kit to Gathy's Kat.
Gathy beat the WPT Champions Club member, Adrien Allain, in heads-up action. The Frenchman came into the WSOP on the back of a runner-up spot in the EPT Grand Final in Monte Carlo earning $658,761. Now, that's what I call form.
Ryan Laplante continued his incredible run with his ninth cash of the series finishing in 56th place.
Final Table Results
1. Michael Gathy – $560,843
2. Adrien Allain – $346,632
3. Manuel Nunez – $299,990
4. Blake Eastman – $155,762
5. Scott Margereson – $107,723
6. Thi Nguyen – $76,112.
Other superstars of poker who had decent ITM finishes were Jason Koon (9th), Thiago Nishijima (11th), and Jonathan Little (13th).
Hani Awad Wins Event #36: $2,500 Mixed Omaha/Seven Card Stud Hi-Lo 8 or Better
The bracelet for Event #36: $2,500 Mixed Omaha/Seven Card Stud Hi-Lo 8 or Better now sits on the wrist of an old school Las Vegas gambler. Hani Awad has been gambling in Vegas for over half a century, and so I guess it was only a matter of time before someone slipped a bracelet over his hairy wrist.
In a show of synchronicity Awad finished second in this event last year losing to the Russian Konstantin Maslak.
The 65-year old gambler and taxi cab owner defeated Fabrice Soulier in heads-up action. It is the second time Soulier has fallen at the final hurdle since winning his bracelet back in 2011.
The event attracted 394 entrants and created a prize pool of $896,350.
Final Table Results
1. Hani Awad – $213,186
2. Fabrice Soulier – $131,762
3. Aditya Prasetyo – $89,409
4. Denny Axel – $61,888
5. Michael Chow – $43,717
6. Gleb Kovtunov – $31,527
7. Per Hildebrand – $23,222
8. Timothy Burt – $17,479
Other world class poker athletes who ran well in this event were Jason Mercier (11th), Ashton Griffin (20th), Cyndy Violette (21st), and Matt Savage (23rd).
Jiaqi Xu Wins Event #37: $1,500 Pot Limit Omaha
Jiaqi Xu has joined the gang of first-time bracelet winners after his victory in Event #37: $1,500 Pot Limit Omaha. The event attracted 776 entrants and created a $1,047,600 prize pool.
The Chinese-born, resident of Maryland, defeated the British veteran Jeff Duvall in heads-up action capturing the first prize of $212,128. It was the largest score of his career by some distance.
Final Table Results
1. Jiaqi Xu – $212,128
2. Jeff Duvall – $131,073
3. Pallas Aidinian – $91,369
4. Joshua Pham – $64,654
5. Tommy Le – $46,452
6. Richard Austin – $33,895
7. Jon Ho Christensen – $25,123
8. Thibault Klinghammer – $18,922
9. Bryce Eckhart – $14,484
Other big names that illuminated the top end of the chip counts included Dylan Linde (10th), Jake Schwartz (11th), and Joe Serock (28th).
Rafael Lebron Wins Event #38: $3,000 Six-Handed Limit Hold'em
Rafael Lebron loves life at the WSOP right now. Before the summer, Lebron had only ever cashed once in a live tournament. He now has four, including a runner-up finish, and a bracelet.
Lebron came second to Viatcheslav Ortynskiy in Event #30: $3,000 Pot-Limit Omaha Six-Handed. When he faced the Greek player Georgios Zisimopoulos in heads-up for the Limit Hold'em bracelet he wasn't going to let history repeat itself.
245 players created a prize pool of $668,850, and Lebron took the $169,337 first prize taking his total earnings for the summer over the $400,000 mark.
It was a final table full of cracking poker players including a return to the WSOP final table stage for the reigning WSOP Main Event Champion, Joe McKeehen, who finished in fourth place. Rep Porter was also in with a shout of winning his second bracelet of the summer but fell in ninth.
Final Table Results
1. Rafel Lebron – $169,337
2. Georgios Zisimopoulos – $104,646
3. Brad Libson – $68,896
4. Joe McKeehen – $46,489
5. Matt Matros – $32,172
6. Alexander Queen – $22,848
7. Andrey Zhigalov – $16,663
8. Michael Semenov – $16,663
9. Rep Porter – $12,489
Martin Kozlov Wins Event #39: $10,000 Six-Handed No-Limit Hold'em Championship
Martin Kozlov has moved into second place in the WSOP Player of the Year race after a stunning victory in Event #39: $10,000 Six-Handed No-Limit Hold'em Championship.
The Australian beat a field of 294 entrants to take the $665,709 first prize on a table bubbling with brilliance, bluster, and bravado. It was a sweet moment for Kozlov as it marked his seventh final table. His trophy cabinet was still missing a sliver of gold.
He became the 12th Australian to win a bracelet after beating Davidi Kitai in heads-up action. Kitai was trying to win his fourth bracelet; the second for Belgium at this year's festival. Former bracelet winners Justin Bonomo and Nick Petrangelo also made the final table, as did the bad boy of poker Chris Ferguson. How strange it would have been had Jesus won the event and had a microphone thrust into his face. Top UK pro-Jack Salter finished sixth.
Final Table Results
1. Martin Kozlov – $665,709
2. Davidi Kitai – $411,441
3. Justin Bonomo – $271,856
4. Chris Ferguson – $183,989
5. Nick Petrangelon – $127,622
6. Jack Salter – $90,783
Other titans of the felt to run deep included Vanessa Selbst (9th), Paul Volpe (10th), and Steve Gross (11th); Network Marketing guru, and the author of Go Pro, Eric Worre finished 7th.
Christopher Vitch Wins Event #40: $2,500 Mixed Triple Draw Lowball (Limit)
Cash game player, Christopher Vitch, has finally bagged a bracelet after numerous close calls. Vitch was triumphant in Event #40: $2,500 Mixed Triple Draw Lowball (Limit) after finishing 9th, 3rd, 2nd, and 3rd in four previous final table appearances.
236 entrants created a $536,900 prize pool. The 33-year-old defeated Siegfried Stockinger in heads-up action. Australian Poker Hall of Famer Gary Benson also made the final table finishing in 6th place.
Final Table Results
1. Christopher Vitch – $136,854
2. Siegfried Stockinger – $84,572
3. David Gee – $55,511
4. Damjan Radanov – $37,375
5. Michael Schiffman – $25,830
6. Gary Benson – $18,336
7. Tony Lazar – $13,380
Megastars who came close to the final table included Martin Staszko (11th), Dzmitry Urbanovich (12th), and Felipe Ramos (24th).