10th annual exhibition-forum Russian Gaming Week 2016 took its place on 2-3 of June.
CASEXE team showcased its latest products and met its partners, potential customers and visitors of the event, predominantly from the CIS and Eastern-European countries.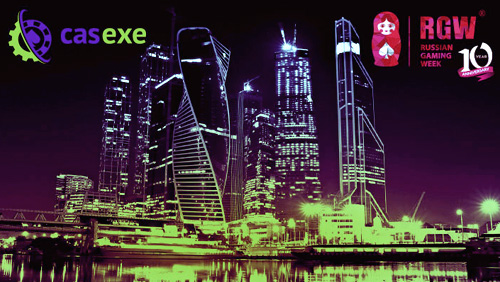 "It's been a pleasure to watch: CASEXE stand was one of the most attended on the first day of exhibition, and we've managed to stand out from the crowd of betting companies. Such positive guest feedback for products and solutions from our company was a really pleasant surprise for us. As part of RGW, we've signed some preliminary deals for new projects, discussed many questions interesting for our clients and partners," CASEXE marketing manager Anastasia Zaderyaka commented on results of the Moscow event.
Second day of exhibition was notable for presentation from СЕО of CASEXE – Ivan Kondilenko, as part of the conference, titled "How to create a profitable online casino in 2016. Key trends and innovations". The crowded room and valuable questions have once again become the indicator of topic actuality, when it comes to launching your online gambling business.
CASEXE has also presented its new implemented project – White Label casino – RoyalFoxy. Exhibition attendees had a chance to get $50 vouchers for play at RoyalFoxy.
If you were one of the lucky visitors, don't miss your chance and ride the wave of luck using your voucher by clicking on this link – https://royalfoxy.com/.
Each visitor of the stand was able to get a detailed consultation on any question of interest and talk to CASEXE representatives in the calm and pleasant atmosphere.
If you missed RGW and wasn't able to meet the CASEXE specialists, don't be upset: you still can get answer to any question by leaving a request in a corresponding category of the new "Support" section at CASEXE.COM.
Subscribe for CASEXE news and groups in social networks, not to miss the next exhibitions and a possibility to meet company specialists in your city!