GiGse is an established event specifically addressing the online gaming industry in the regulated US market.  Each year Clarion does extensive research and adjusts their agenda to meet the needs of all professionals interested in this slow moving, yet promising market.
This year delegates will notice a number a changes to the conference program, including the addition of the Millennial Summit, the GiGse Launch Pad moving from Day 3 to Day 1, a "dress down" policy and a focus on young talent in the industry.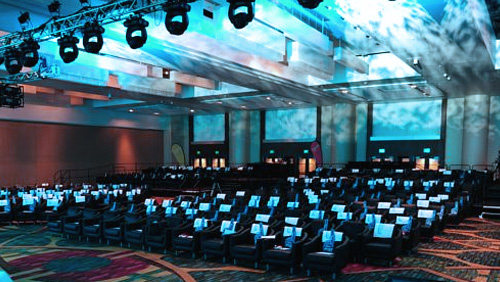 Rest assured, alongside of these changes comes the consistent quality of fresh content delivered throughout GiGse sessions.
"Adoption of iGaming is perhaps on hold in the USA now, but that doesn't mean that digital transformation, adoption of technologies and innovation are on hold too.  With our Millennial Summit and the speaker choice that goes way beyond iGaming, GiGse is making that statement this year", Ewa Bakun of Clarion shared with me.
She continued, "Ex-NFL Chris Kluwe, TopGolf's YuChiang Cheng, The Cosmopolitan's Patrick Nichols and Unikrn's Rahul Sood will offer fresh perspectives on new consumer demographics, new trends and new business models".
By attending as many sessions as possible, delegates will find the most value from attending GiGse 2016.  As always it's a challenge to balance meetings, networking, evening activity and sleep with sessions, but this is one of those events where sessions should take priority.  For those of you with jammed schedules, below are the five sessions I recommend you try to squeeze in.
Keynote: Creating a multi-surface millennial engagement strategy
Millennials, social, gamification, entertainment…all of these terms are now used regularly throughout the gambling industry.  To run a successful online gambling business in the long term, focusing on millennials and what entertains them is becoming more and more important.  GiGse's keynote speaker YuChiang Cheng is an expert on this very subject.
Cheng co-founded World Golf Tour (WGT) in 2006, the world's largest golf website and mobile golf game.  WGT was one of the first US-facing games to successfully introduce free-to-play in-app purchases and in-game native advertising, clearly an industry leader at the time.  Cheng became President of Topgolf Media after the company's acquisition of WGT earlier this year.
When: Wednesday, April 27, 9:10-10:00
Where: Golden Gate B
Speaker: YuChiang Cheng of Topgolf Media
GiGse Launch Pad
The Start-up Launch Pad is always at the top of my list when it comes to sessions to attend at GiGse (also EiG and now ICE Totally Gaming).  Following the latest technologies and innovations will point in the direction our industry is moving and the Launch Pad is a great place to start.
Melissa Blau of iGaming Capital and FastFantasy takes on a key role in the Launch Pad Series, especially when it comes to the submission process.
"Interestingly there were not as many submissions but the quality was much higher than in years past. GIGSE Launchpad always seems to be reflective of the hottest trends in the industry and this certainly holds true for this year's GIGSE Launchpad with two daily fantasy companies, one eSports, one digital data marketing and mobile lottery", Blau shared with me.
"We also have fantastic new judges that really know these sectors so their feedback will be really interesting to hear. I am very excited as I don't think this year there any obvious frontrunners", she added.
When: Wednesday, April 27, 15:30-17:00
Where: Golden Gate B
Pitching Start-ups: CrowdLotto, Calice, Fanamana, GameStars, Boom Shakalaka
The rise of eSports and its millennial following
Chris Kluwe, or @ChrisWarcraft on Twitter, is most recognized for his eight years with the Minnesota Vikings but is also known for his "activism in gaming" when it comes to eSports. For a taste of his unique character, take a look at his speaker bio.
As far as I can tell, Kluwe has been publically talking about the allure and potential of eSports since 2013, so clearly someone who is familiar with the industry and knows first-hand how fast its growing.
It will also be interesting to hear about eSports from the eyes of an athlete who participated in more "traditional" sports such as American football, something that I would say "legitimizes" his perspective for those who are new to the eSports world.
As a side note, I always enjoy presentations delivered by enthusiasts outside our industry as they consistently deliver a fresh perspective, something Clarion has done a fantastic job including in all of their conference agendas.
When: Wednesday, April 27, 17:00-17:30
Where: Golden Gate B
Speaker: Chris Kluwe, Former NFL player & eSports Advocate
Regulatory update: Sports Betting
I think we all know the story here with regulated sports betting across America…we all want it to happen, we think it may happen, but its definitely going to take a while.  The recommendation to attend this panel actually stems from my respect for Joe Asher who is an entertaining and informed panellist with strong opinions.
I also think the subject of how DFS will fit in with sports betting in the United States and jurisdictions overseas such as the UK is a debatable topic with plenty of supporters on both sides of the fence.  For sure this subject will be addressed during the panel, likely the highlight for those in the room.
When: Thursday, April 28, 16:45-17:30
Where: Golden Gate B
Moderator: Lynne Kaufman of Cooper Levenson
Panellists: Joe Asher of William Hill USA, Vernon Kirk of the Delaware Lottery, Dan Wallach of Becker & Poliakoff, Senator Mark Lipparelli
New gaming environments that bridge the gap between the online and offline space
The online and offline gambling industries are now becoming one and this session will address the collision of both worlds.  eSports clearly is an area of interest, as is adding more entertainment on the casino floor and within the games online.  Hearing from Patrick Nichols, SVP of Strategy & Business Development for the Cosmopolitan Hotel in Vegas, is a first for us and he should provide a valuable perspective.
I also like this session because it features Roberto Coppola, a speaker I heard for the first time at iGaming North America 2016.  He's informed, engaging and well-spoken and I recommend connecting with Coppola after the session, or at least taking notes when he puts in his two cents.
When: Friday, April 29, 11:10-12:30
Where: Golden Gate B
Moderator: Roberto Coppola of YWS
Panellists: Gene Johnson of Knowledge Partners, Rahul Sood of UNIKRN, Patrick Nichols of Cosmopolitan Las Vegas