Is being an ambassador for poker a lousy job? What does the word mean? What are the expectations? What are the roles and responsibilities?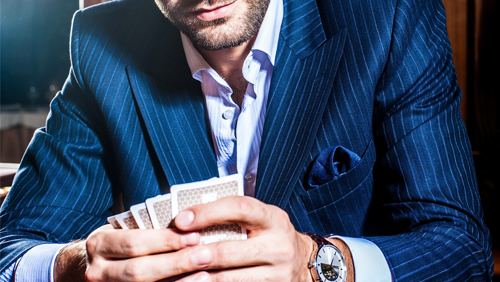 Is being an ambassador for poker a lousy job?
It's an interesting question. It's well worth a poke. Here are my thoughts.
Ambassador – A representative or promoter of a specified activity. An ambassador can be self-appointed, or hired. Meaning, if you don't want to be an ambassador, you don't have to. Joe McKeehen recently crushed the World Series of Poker (WSOP) Main Event. A centrepiece that carries the tagline 'ambassador' purely because the winner has a pin that one can use to burst the poker bubble and emerge on the side of worldwide media coverage. A powerful platform to promote the game to a wider audience, hence the unspoken request for the winner to be an 'ambassador.'
I play poker because I enjoy the challenge. Sometimes I have fun, but not that often. I compete at the WSOP. It's an opportunity to be a crowing rooster. A chance to be lazy and change your life without working hard at something. I don't play the lottery. The WSOP is my lottery. I am all about the luck.
If I had won the 2015 WSOP Main Event, I would have donated 4% to charity. As a UK resident, I don't pay tax on poker winnings. I would have given $307,333 split 50% down the middle to the Against Malaria Foundation (AMF) and Animal Charity Evaluators (ACE).
My victory would have changed the lives of a lot of people and animals. My role as an ambassador for poker would save even more. In the context of winning the WSOP Main Event, and inheriting the role by default, you are given a stage, and the spotlight is shining. Unless affiliated with a sponsor, you are free to use that stage in any way you can. I would ensure that I used that platform to talk about why I donated 4% of my winnings to those two charities, and why I believe everyone should be giving at least 1% to those who need it more.
If you are a self-appointed ambassador for poker, you will probably take up the role so you could promote the game. A more complicated context to get my head around. One reason to promote the game is the net result of gaining freedom and happiness. If you reach an elite position, there is no doubting the freedom of time that it creates, and the financial burdens it can eliminate. Both of these benefits lead to happiness.
One problem with this theory is there are so many other ways to earn freedom and happiness while also making a positive impact in the world. There is nothing positive about securing your freedom and happiness by making someone else's life more miserable. While it's true that people can lose money playing poker and not become unhappy, there will be a lot of people where the net effect of losing money frequently will have this effect.
It's a problem that Philipp Gruissem once faced. He didn't feel comfortable winning vast sums of money through making other people miserable. There is also a limit to how much happiness money can create on a personal level. Gruissem solved this problem by creating Raising for Effective Giving (REG). He now has a reason to earn more money playing poker. He is reducing suffering in the world. So does it pay dividends for Gruissem to be an ambassador for poker? I don't think so. I look upon Gruissem as an ambassador for reducing suffering in the world; not poker.
The most common form of ambassadorial poker duties comes when you are hired to perform them. For many, this becomes the holy grail for poker players; most obviously, this is because poker, as a chosen profession, is a risky business when it comes to a reliable income. Getting paid to promote poker is a steady source of revenue.
Part of the problem with being an ambassador for another company is you lose control. You have a responsibility to tow the party line. There are rare exceptions, and I think Daniel Negreanu is one of them, but I steer clear of interviewing ambassadors of poker sites because I know they won't always be able to share authenticity.
Another problem with being an ambassador for a poker company is you are no longer your boss. You now work for someone who tells you what to do. That maybe fine for some, but it doesn't fit the definition of the freedom that so many professional poker players yearn for. You also face difficult times when your company gets embroiled in something that no longer aligns with your values. Victoria Coren-Mitchell left PokerStars because of a clash of values. How many people have sold their values to the highest bidder and kept their mouths shut?
There are a lot of great benefits attached to the role of poker ambassador for a poker company. I am going to focus on Jake Cody. I don't know Jake intimately, but I know him well enough to believe that his role with PokerStars, and the birth of his daughter, have been instrumental in his maturity both on and off the felt.
Cody recently travelled to Uganda to help reduce the suffering of their children working alongside the nonprofit Right to Play. I don't think Cody would have ended up in Uganda without his affiliation to Stars. He would have missed out on an incredible learning opportunity; one that has no doubt changed his life.
PokerStars teach representatives how to manage the media, how to speak publicly and other life changing skills that can be used to further their individual needs once their relationship ends. So there are some great reasons to be an ambassador and some not so great.
It's not hard to shun attention. I tried to interview McKeehen before the final table and didn't get anywhere. Going quiet is easy. I don't think you feel the obligation to be an ambassador. Don't read social media, don't read blogs and get your head down and play. Let someone else take up the reins. There are plenty of free and feisty hands out there.
After sharing my thoughts on paper, I have come to the conclusion that being an ambassador of poker is only a lousy job for those that prefer the hermit lifestyle, and don't have an agenda to promote. For everyone else it offers a wonderful opportunity to share your ideas and vision, and you don't even have to mention poker.
WSOP bracelet winner Andrew Barber said it best after winning the $10k H.O.R.S.E bracelet this year, and I can't think of a better way to end this piece than to quote the great man.
"I feel like I have won more than a poker tournament; I feel like I won a voice. For a few minutes, I get the opportunity to speak about some of the things that are important to me and for the first time, I get an audience."
Spoken like a true ambassador.