Lee Davy brings you a round up of the 37th day of action at the 45th Annual World Series of Poker, including news on the first online poker bracelet in World Series of Poker history and much more.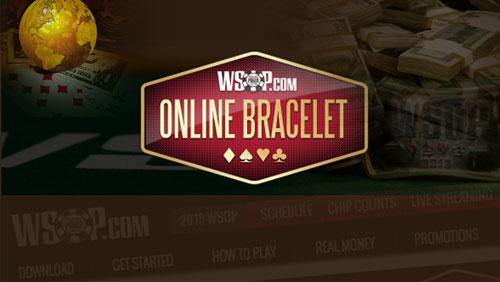 I didn't like the idea when it was first announced, and I like it even less now I have seen the numbers. The first ever-online poker bracelet to be offered by the World Series of Poker (WSOP) attracted only 905 players. Let's hope that the officials stick an apple in it, thrust a spit into his ass and send it out to roast.
It took nine hours for the field to be whittled down from 905 to a final table of six. The total prize pool was $859,750, and the winner will receive $197,743. 100 players received a minimum of $1,805, and the final six will return to the Rio to play the final table live on the 4th July.
I would love to give you an insight on whom I believe will win this thing, but as I don't have a clue who any of the finalists are, I can't.
Final Table Chip Counts
1st. Imgrinding – 2,572,767
2nd. Casedismised – 2,290,637
3rd. Stonerboner – 1,832,138
4th. SLOPHOUSE – 1,104,863
5th. GringoLoco72 – 1,059,089
6th. TuttyBear – 467,813
Jason Caulk Leads the Final 14 in the Little One for One Drop
14 players remain from the 4,555 that played in the Little One for One Drop, and Jason Caulk leads the final 14 with close to 7 million chips.
It's going to be a very interesting sprint for the $645,969 first prize. Chris Hunichen has visited WSOP final tables before (two to be exact), John Reading won the $1,000 Hyper Turbo event earlier in the series, and Brett Shaffer is attempting to win his third bracelet in successive years, all of which have come in huge fields. The Dutchman Pim de Goede is also worth keeping an eye on.
Chip Counts
1st. Jason Caulk – 6,975,000
2nd. Paul Hofer – 6,355,000
3rd. Chris Hunichen – 5,205,000
4th. John Reading – 4,545,000
5th. Mario Lopez – 4,305,000
6th. Senovio Ramirez III – 4,165,000
7th. Raffaele Carnevale – 2,450,000
8th. Paul McTaggart – 2,345,000
9th. Brett Shaffer – 2,315,000
10th. Rainer Kempe – 1,730,000
11th. Pim de Goede – 1,585,000
12th. Carlos Chang – 1,480,000
13th. Stephen Ma – 1,100,000
14th. Dustin Lee – 1,000,000
Vojtech Ruzicka Leads Event #62: $1,500 Bounty No-Limit Hold'em
The Czech Republic's Vojtech Ruzicka has a huge chip lead in Event #62: $1,500 Bounty No-Limit Hold'em. The former European Poker Tour (EPT) Deauville High Roller champion has a million more chips than his closest competitor Jack Duong.
Day 1 chip leader Chris Brammer bit the dust in 45th place, and Liv Boeree (who was second in chips) met her demise in 162nd place. There are 34 players left in pursuit of the $333,351 first prize. Other notables with chips include: Michel Abecassis (622,000), Ruben Visser (427,000) and Govert Metaal (231,000).
Top Five Chip Counts
1st. Vojtech Ruzicka – 2,115,000
2nd. Jack Duong – 1,139,000
3rd. Peter Murphy – 747,000
4th. John Myung – 694,000
5th. Ray Yamasaki – 650,000
Andrew Barber Leads $10,000 H.O.R.S.E Championships
Only 20 players remain from the 204 that entered the $10,000 H.O.R.S.E Championships and Andrew Barber has a slight lead over the former WSOP Player of the Year (POY) Frank Kassela. Day 1 chip leader Eli Elezra also has a top five stack, and other notables in contention for the $517,766 first prize are: Joe Hachem (373,000), Randy Ohel (357,000) and Brandon Shack-Harris (349,000).
Top Five Chips
1st. Andrew Barber – 574,000
2nd. Frank Kassela – 547,000
3rd. Eli Elezra – 413,000
4th. Don Zewin – 407,000
5th. Viacheslav Zhukov – 383,000
Thomas Savitsky Leads Event #65: $1,500 Seven Card Stud Hi-Lo 8 or Better
Event #65: $1,500 Seven Card Stud Hi-Lo 8 or Better saw a 7% reduction in field size year-on-year. 547 people created a total prize pool of $738,450 and 125 remain at the time of writing.
The first prize payout is $180,943 and Thomas Savitsky currently has a better chance than anyone as he locked up the Day 1 chip lead as the only play bagging over 100k in chips.
Other notables with chips are Steven Wolansky (66,500), Daniel Strelitz (57,500) and Adam Owen (49,800).
Top Five Chip Counts
1st. Thomas Savitsky – 101,600
2nd. Yuebin Guo – 80,900
3rd. Anthony Bellino – 78,600
4th. Alexandr Orlov – 72,800
5th. Vladimir Shchemelev – 72,100