BetConstruct – the 2015 IGA Innovator of the Year – announces its latest gaming industry advance. Effective immediately, BetConstruct enables prospective customers to create a fully functional betting and gaming website. Each site comes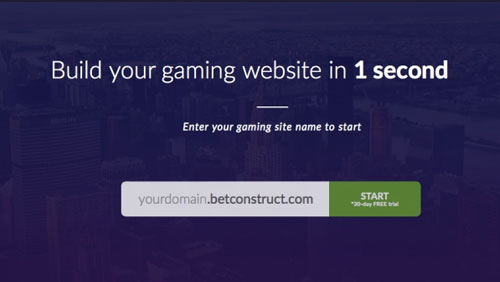 complete with a choice of user interface and is activated with a single click from the betconstuct.com website.
Users will be able to create their trial site instantly, evaluate it with colleagues using credits and, if desired, purchase it – all with or without direct assistance from the BetConstruct sales team. Simple, user-friendly functionality means that a prospect only has to supply their company name for the fully automated process to begin. No specialist technical skills are required at any stage.
"Providing immediate and straightforward access to a customised gaming website is part of a wider initiative to build flexibility and customer choice into our sales process," said Vahe Baloulian, BetConstruct's Chief Executive Officer. "It is now possible to purchase BetConstruct's product and service offerings with or without the direct assistance of our sales managers. The future of a prospect's online gaming business can be experienced immediately and without any financial obligations."
For more information or to try this innovative development live, visit betconstruct.com/sales/springbuilder.
BetConstruct is an award-winning developer and provider of online and land-based betting and gaming solutions and services.
BetConstruct's innovative and proven offerings include market leading online and land-based Sportsbook, Live Dealer Casino, RNG Casino Suite, Poker, Skill Games, Virtual Betting, Financial Betting and Fantasy Sports. BetConstruct currently powers 120 partners globally, fully supporting them in offering their players the finest betting and gaming experience, while efficiently managing their business through a single back office suite. For more information, please visit BetConstruct website at www.betconstruct.com.
BetConstruct Contact:
+44 203 709 9010
[email protected]
www.betconstruct.com