Brayden 'BRAYDEN93" Fritzhall outlasted over 50,000 players on his way to victory in the Sunday Million 9th Anniversary Special, and Russia's Liliya 'Liay5' Novikova joins Team Online.
PokerStars have done it again.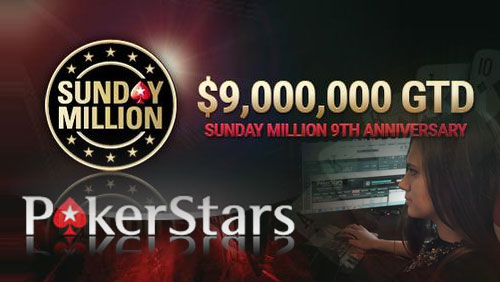 Necks were on the line, the guillotine stayed hoisted well above their heads, and reputations remained in tact.
They were celebrating the ninth birthday of their special child: The Sunday Million, and in keeping with tradition they laid out a feast worth $9 million bucks.
The excitement was palpable. Everyone was talking about it. There was close to 30,000 entrants before a hand was even dealt. Then after three and a half hours of registration the tills stopped ringing. 50,432 players had contributed to a $10,086,400 prize pool. They had smashed the guarantee by over a million bucks.
$11 of that prize pool belonged to kelly_koulis of Greece, who won his seat after winning a satellite, moments before the tournament kicked off. Over 15-hours later he was locking up $725,267.11 after the final seven players agreed upon a ICM deal.
Despite winning the lion share of the cash, kelly_koulis is not the man hogging the headlines. That honor goes to Brayden "BRAYDEN93" Fritzhall, who defeated koulis, in heads-up action, to take the remaining $100,000, and the title, to give him a combined pay day of $597,719.60.
The final hand seeing koulis flop top pair on [Jc] [9c] [8c], holding [As] [Jh], and Brayden flopping two pair, holding [9h] [8h]. The money went in after the [2d] came out on fourth street and Brayden was declared the winner after the river bricked for the man from Greece.
8,397 players were paid.
Final Table Results
1st. BRAYDEN93 – $597,719.60*
2nd. Kelly_koulis – $725,267.11*
3rd. Tiltinha – $567,978.95*
4th. PSMozak – $542,539.95*
5th. Sonmonedas – $413,610.60*
6th. Salaliitto – $394,207.12*
7th. ModzillaPL – $336,550.72
8th. Bari_nikolov – $119,523.84
9th. Kokli_1 – $87,247.36
Here is a re-run of the final table
Liliya 'Liay5' Novikova Joins Team Online
Less than a month since PokerStars announced their partnership with Jason Somerville, another player has joined their team roster, albeit with an entrance a little bit quieter.
Liliya 'Liay5' Novikova has joined Russia's Team Online after getting noticed taking people apart in the Hyper-Turbo 6-Max games. Like so many online legends, Novikova comes from a professional video gaming background where she made a few euros playing the PC game Defense of the Ancients (DotA).
When she isn't earning money at the tables, Liay5 likes to shoot a few hoops, and play videogames such as Diablo and DayZ.