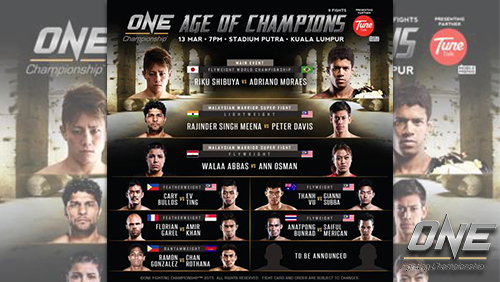 16 February 2015 – Singapore: Asia's largest mixed martial arts organization with a 90% market share, ONE Championship™ (ONE FC), has announced an additional bout for ONE FC: AGE OF CHAMPIONS, which takes place 13 March in Kuala Lumpur. Rising star Amir Khan returns to lock horns with Florian Garel, and Walaa Abbas replaces Angela Lee as opponent for Ann Osman.
Amir Khan is a Singaporean mixed martial artist with an undefeated amateur record who has competed in the United States. He is a Brazilian Jiu-Jitsu Blue Belt under Relson Gracie, and also has competitive wrestling and Muay Thai experience. With more than seven years of combat sports experience under his belt, Khan now faces Florian Garel after being victorious in his first two ONE FC bouts.
Originally from France, Florian Garel trains out of Taiwan Top Team and has made Taiwan his second home. Garel studied the Chinese language while in university and moved to Taiwan to marry his Taiwanese wife. A 4th Dan Karate black belt, Garel eventually settled in Taichung where he now teaches martial arts.
Walaa Abbas is a national Egyptian kickboxing champion who has notched a 2-2 record so far as a professional mixed martial artist. She boasts of exceptional striking prowess and always looks to finish fights early. Abbas will be taking on Malaysia's warrior belle, Ann "Athena" Osman after replacing Osman's original opponent, Angela Lee.
For more updates on ONE Championship™, please visit www.onefc.com and follow Twitter and Instagram @ONEFCMMA and Facebook at www.facebook.com/ONEFCMMA
About ONE FC
With a 90%+ market share in Asia, ONE Championship™ is Asia's largest Mixed Martial Arts (MMA) organization. Headquartered in Singapore, the world's most exciting mixed martial arts organization hosts the best Asian mixed martial artists and world champions, all signed to exclusive contracts, on the largest media broadcast in Asia. ONE Championship™ has partnered with FOX and STAR Sports for an unprecedented 10-year cable television deal with a coverage that spans 70+ countries across the world.
Media Contact:
Loren Mack, ONE FC
(e): [email protected]
(m): +65 9771 5617