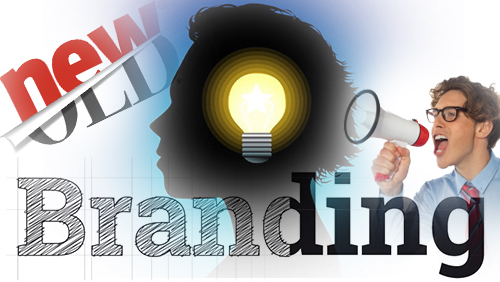 "Many a small thing has been made large by the right kind of advertising"  –  Mark Twain
I am going to come right out and say that it is crucial to brand well. Like really, really crucial. This might sound trivial, or even stupidly obvious to some, but it has to be said. So many times I have heard 'that's just branding' or 'branding has no value' or similar nonsense while negotiating. Folks probably say this because at times, especially to the not so tech savvy, it can be hard to measure.
There is a reason people pay so much to have commercials on TV, or have felt on a poker table. Branding helps sell.
The point of branding is to interact an impression on the customer. This impression is usually based on an interruption but not exclusively.
There is branding and there is re-branding. Both are mission critical to a successful business. Some brands sell themselves, some brands need a little push.
The Brand
For the new business, it is crucial to understand how to brand it. There is a plethora of good advice on the web with a few easy searches. I recommend doing this before jumping in full steam ahead.
In the world of online gaming, thousands of brands have popped up over the last decade. Seriously, every goofy thing that can be tied into gaming has been tried. Many of these died, a few succeeded.
The Re-Brand
In the world of online poker, there has been some serious re-brands. Why are people rebranding? Simple: because the customers are changing. Sure maybe some do it for vanity, but let's hope not.
There have been some spectacular re-brands that have occurred in gaming.
Poker Brands that Stick in your Head
I'm going to talk about three brands. 2 that need no introduction, and 1 which is my favorite up and comer. All of these brands push heavily for unaided brand recall.
PokerStars.
Beautiful logo and font. This brand has smashed all competitors. This brand knows how to lodge itself in the brain and stay there. I say well done. You say "Poker" I will say "PokerStars."
They branded the 'We Are Poker' campaign semi-recently. Overall I like this campaign. I agree they are a large part of poker.
The downside for me is that it is a touch glib. In my view, humbly, it is the players that are in fact poker. Not necessarily an international company that has taken hundreds of millions out of the poker player economy in the form of the rake (and fees). Yea PS has been the trendsetter, game changer and market share leader. They have propped up the idea of poker and pushed it to the masses like gangbusters, but like everything, it shouldn't be accepted blindly. I shouldn't be a pariah for stating this either.
My favorite part of PokerStars branding is the 'Shock them with your aces' slogan. Not a home game goes by wherein this is not uttered at least a handful of times. It is fun to shock someone and have it proclaimed.
GPI, Global Poker Masters and Alex Dreyfus brands.
Now here is a collection of brands that have come out of nowhere. These are fast becoming ubiquitous in poker. It feels like everyone is promoting these brands (I am a fan by the way, but was leery at first). Alex Dreyfus has a bucket of brands, I can't keep up with them all, but the mainstays are going to be that- mainstays.
Alex is a true entrepreneur in every sense of the word and should probably be the president of a small country. He did such a good lead up campaign for GPI and the Global Poker Masters. He knew from the start that he was on to something with potential and kept pumping out releases and getting every sized company involved in promoting him. Just go look at his media partners list on his website.
At first I thoughts it was a lot of air- air which has now turned into a bright and beautiful flame. I suppose I was being a bit cynical about the industry. This GPM is going to game change poker media, which frankly, could use it.
Imagine if he brings some big TV into the picture?
You can all thank him later.
Aesthetically I like the actual look of the brand, with the hashtag which doubles as the perfect sized net for the globe shape that is the planet earth.
Kudos to GPI and I am eating crow.
Party Poker.
This is a spectacular example of what is fast becoming a process that I am calling the dreaded 're-brand.'
Rebrands have been tried and tested many a time with many a company. They don't always work. I personally don't feel like the Party rebrand hit the mark. The major brand that this Party situation reminds me of is "The Gap." It took a whopping 6 days for the Gap to cancel the rebrand. Party still has the old brand in play.

At the time of the Party Poker rebrand, I was a bit confused, I really liked the old brand. Yes, I like it in all its busy yellow glory. I guess they didn't agree in Party HQ, because otherwise they wouldn't have changed it.  So why did that little chip and slogan make way for a new color scheme and a diamondesque graphic? I wish I knew.
They also changed the words a few times. They ran with 'Feel It' (feel what?) and 'The World's Largest Poker Room' (I guess they changed it cause it wasn't true). They may have even changed it again since.
At the time of the big logo change I was vexed. Like everyone else in the industry, I had to change creative on my materials. This cost everyone time and money. If you follow the market share and the downward trajectory they have been on, I think it is safe to say these rebrands haven't worked as planned. I am personally really disappointed because they were always my favorite and I have (maybe had after this article) lots of friends that work there. On the other side of the coin, that massive merger could have buckled any company.
Unrelated Pro Tip: Hire change management consultants next time you want to do a massive merger.
Some final tips if you are going to choose a brand or attempt to rebrand:
Be an evangelist.
Do the research.
Be mobile responsive.
Workshop it out.
Ensure message match.
Good planning – garbage in garbage out.
Map out your touch points.
Don't be scared to go back if there is an uproar.
Robbie is on Linkdin and twitter. He has successfully run E-commerce sites in over 30 languages and has an abundance of cross-jurisdictional awareness. He has spent over 10 years living abroad and driving international and domestic online marketing and tech projects for award winning companies.