Privacy, censorship, online freedom, mass surveillance, the growing military and corporate domination control of the internet – not only is it not hard to read about these subjects today, it's actually easier than ever. But while reading the daily news is good for keeping up with developments, it's not as useful for larger overviews of these topics. And with the flood of information coming to us at all hours of the day, it's also possible to lose the thread of larger stories if you pay attention to some other topic. Luckily, the old-fashioned book hasn't died off completely. Plenty of volumes have been produced this year looking at various aspects of these important topics, offering in-depth takes and first-hand accounts that daily news can't often accommodate. Here are a few worth checking out this winter.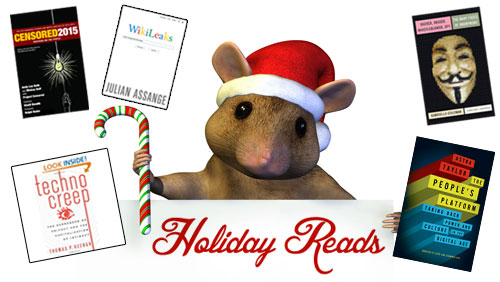 Censored 2015: The Top Censored Stories and Media Analysis of 2013-2014 edited by Andy Lee Roth, Mickey Huff, and Project Censored
Seven Stories Press, $18.95 direct from Project Censored)
Project Censored has been covering the stories that the mainstream media ignore since 1976, when Professor Carl Jensen started it at Sonoma State University. Since then the project has grown to include affiliate professors and students from 17 colleges and universities, helping to broaden the search for important news that the highest-profile reporters won't bring you for one reason or another. Among the 25 stories in this year's volume of the project's work are reported but mostly ignored work on a government assassination plot against Occupy movement leaders in Houston, Estonia's groundbreaking use of the internet (and meaningful protection of privacy on it), the deep state, corporate ISPs' war on net neutrality, and Wikileaks' reporting on the rigged Trans Pacific Partnership.
When Google Met Wikileaks by Julian Assange
OR Books, $16 paperback/$10 e-book direct from the publisher)
The founder of Wikileaks may still be holed up in the Ecuadorean embassy in London, but as a full-blooded creature of the internet that hasn't come remotely close to keeping him quiet. Assange's latest salvo against both the military (the NSA) and commercial (Google and Facebook) arms of the surveillance state was an editorial in the New York Times last week, "Who Should Own The Internet?". It followed on the heels of the September release of his book When Google Met Wikileaks and continued with themes from the book. The 223-page volume consists mostly of a transcript of an hours-long interview with Assange conducted by Google CEO Eric Schmidt back in 2011, while Assange was living under house arrest at an England estate, edited by Assange himself with copious notes. Whether or not you're on board for any of Julian Assange's vision of the internet, which is fleshed out here with a couple of other essays written specifically for the book, there's no denying his influence as a thinker in direct opposition to the military-corporate internet complex.
Hacker, Hoaxer, Whistleblower, Spy: The Many Faces Of Anonymous by Gabriella Coleman
Verso, currently $13.48 bundled hardback & e-book direct from the publisher
Canadian anthropologist and academic Gabriella Coleman (@BiellaColeman on Twitter) started studying Anonymous just as the movement was beginning to cross over from online hijinx to activism. The result in the medium term was becoming intertwined with the members of the freeform movement and, somewhat like Barrett Brown, becoming something of a spokesperson for it without really trying. The long-term result is this book, which Julian Assange has called "easily the best book on Anonymous." Coleman explores the personalities and structure of the decentralized collective that has taken up the mantle of showing the world just how badly behaved its politicians, police, and corporations really are, as well as her own experiences with Anons, in detail nobody else can offer.
The People's Platform: Taking Back Power and Culture in the Digital Age by Astra Taylor
Metropolitan Books, $12 paperback/$11 e-book at Amazon
The internet's promise in its early days was that it would be a great equalizer. From chaotic and inventive beginnings we've steadily seen the consolidation of influence and power online into the hands of a few giant players, who deliver new technologies but uphold old power structures instead of breaking them down. Apple, Facebook, and Google profit greatly while the individual content creators who were supposed to be enabled by the network these companies have commandeered often find it difficult to be fairly compensated for their work. Documentarian Astra Taylor's vision for correcting this skew to restore some balance to the equation is The People's Platform, which has drawn rave reviews from not only artists and writers but major publications throughout the English-speaking world.
Technocreep: The Surrender Of Privacy And The Capitalization Of Intimacy by Thomas Keenan
OR Books, $18 paperback/$10 e-book direct from the publisher
Computer security expert, professor, and writer Thomas Keenan helped craft Canada's computer crime laws in the 1980s. In this book, he takes a wide view of how technological advances of all sorts are combining with the modern internet of shared data to invade our sense of privacy in ways we could never have imagined, from apps that comb through unsecured Facebook profiles to let creeps stalk women, to the potential for genealogical DNA analysis to be used against the genes' owners, to marketers' invasion of every aspect of our commercial transactions, online and off. OR Books calls Keenan's tome "the definitive dissection of privacy-eroding and life-invading technologies, coming at you from governments, corporations, and the person next door" – the perfect gift for that family or member or friend who's just a little too blind to the larger impact of their brand-new holiday-season gadgets.