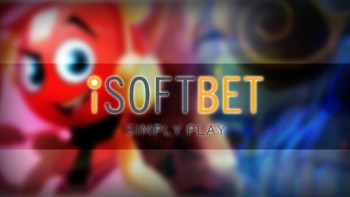 25 November 2014, London, UK — iSoftBet, leading provider in online and mobile gaming software is proud to announce the launch of a new brand identity representing the growth of the company's industry presence and better reflecting its unparalleled range of content and services.
Embodying the core company values of simplicity, creativity and personality, iSoftBet has today launched its brand new logo and website featuring a cleaner, lighter and more user-friendly layout to support the ongoing expansion of the services on offer from the gaming provider.
Operators and players will now have access to iSoftBet's ever-growing catalogue of branded, original, mobile and games direct from the homepage alongside clearly laid-out and accessible information on the myriad of B2B services available to its customers.
iSoftBet's rebranding comes at a great time for the company, coinciding with its recent Alderney accreditation and the release of a number of stunning new branded and original titles available in both Flash and mobile formats.
iSoftBet's Commercial Director Nir Elbaz said the rebrand goes far deeper than simply changing the logo and company visuals.
"Looking the part is vital, of course: we want our branding to reflect the fact that iSoftBet is at the vanguard of gaming innovation. We've also been working with all departments to enhance our offering from the bottom up: from game development, to integration methods and account management.
We feel we've created the perfect brand identity to reflect the nature of our business and highlight the unique services we can offer to customers."
"We strive to offer our customers the best possible service, and we can't wait to introduce the new brand identity to new and existing customers."
About iSoftBet:
With a wealth of knowledge and experience in regulated markets, iSoftBet has quickly become a household name in the online casino industry. Boasting an impressive collection of high-powered games with stunning audio-visual effects, iSoftBet's unparalleled casino games collection also features a range of unique and innovative HTML5 mobile content along with exclusive branded content and a brand new online and terminal-based sports betting platform. Each of iSoftBet's products is created to ensure that it meets industry standards and we combine innovation with experience to provide world class gaming software to our partners.