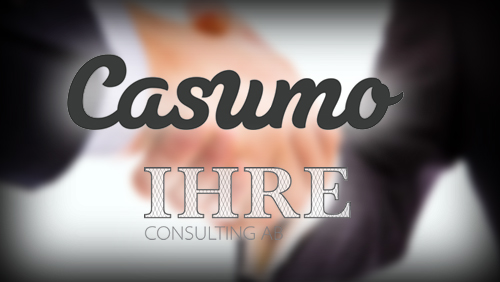 Casumowas founded with one goal in mind – to create the best online gaming experience available. By combining social and real money gaming, Casumo has built the world's first casino adventure in which players are rewarded based on their loyalty. Casumo is an exciting brand with a great company ethos – to disrupt and innovate the igaming business.
Ihre Consulting are extremely pleased to welcome the partnership with Casumo. Focusing on Germany and the UK initially, Ihre Consulting will add strength in these markets, to the already strong affiliate partnerships Casumo has in Scandinavia.
Casumo's Affiliate & Partnerships Director Hanne Aimonen commented: "Casumo is one of the fastest growing online casino operators in Europe and this partnership will further strengthen our exposure on the UK and German speaking markets. We are very excited to start our co-operation with Ihre Consulting. "
Casumo is licensed in Malta, is currently available to play in Euros and in the following languages: Swedish, Norwegian,Finnish, English and German. Watch out for their TV advertising campaigns through Scandinavia in the next few months.
Affiliates can take advantage of great revenue share commission plans with no negative carryover by promoting Casumo. Contact Ihre Consulting directly to discuss the rates available.
Edward Ihre commented "We have been following the Casumo brand since they launched, and are impressed by their product and they way they focus heavily on the conversion and retention of the players, and as a result the results which affiliates can expect to see. We see this as a perfect partnership for us, and are pleased to be able to promote them to our network."
About Ihre Consulting AB
Edward Ihre is the founder of Ihre Consulting AB in Sweden in March 2010. He has been in the gaming industry since 2002, holding positions including Managing Director of Ladbrokes Poker, Director of Partnerships and Affiliations for PokerStars and for Ongame/PokerRoom.com (later BWIN) and Managing Director of Parbet UK.
Ihre Consulting's main fields of expertise (and service provided) are:
Affiliate Marketing, including affiliate recruitment, program set-up/optimization, organizational structure and processes
Gaming Product Management, including procurement/optimizationv
Brokering/Agent. Help you get in touch with the right companies, people, opportunities and deals. From decision-makers to people on the ground, within all aspects of running a (more) successful gaming business
Many years of experience within the above fields and with an extensive network of contacts, Ihre Consulting can create unique, innovative and sustainable solutions for your company.
Comments