Life Outside of Poker: Igor Kurganov on Burning Man Audio
On this week's edition of Life Outside of Poker, Lee Davy sits down with the Raising for Effective Giving (REG) Co-founder Igor Kurganov to talk about his experience at Burning Man 2014.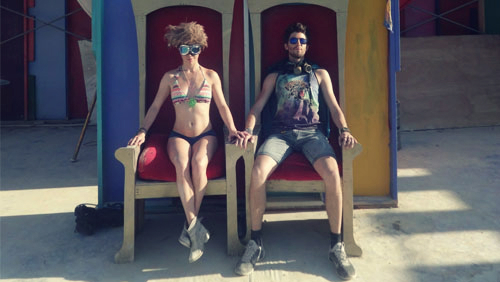 The first time I saw Igor Kurganov was in April 2012. He was about to beat Daniel Negreanu to take the €1 million first prize in the €25,500 No-Limit Hold'em High Roller event at the European Poker Tour Grand Final in Monte Carlo.
My first impression of him told me that he was a school teacher who played chess in his spare time and drank cups of tea out of the sort of China cups your grandma only got out on special occasions. I assumed he also owned an oversized brown satchel.
How wrong I was.
I have held several conversations with him over the past year and the more time I spend in his company, the more I realize that my first impressions were well off the mark. Good looking, highly intelligent and with such a warm heart; he's the type of guy you take home to meet your Mum even though you aren't dating him.
So when I saw a photo of him at Burning Man with nothing but a pair of skin tight sparkling blue shorts on, I wasn't as surprised as I might have been two years ago.
Here is he sharing his Burning Man thoughts.
Burning Man divides opinion. Some people love it, some people hate it, and a whole lot of people just don't get it. What camp do you reside in?
"I was in the not-understanding-it camp. I didn't get a feeling of what it was, and when you have spent some time in Vegas you can get fed up with desert. The thought of going into the desert, 100 miles from anywhere else, building a city, surrounded by sandstorms, and not great sanitary conditions. It's not that great an idea. So why go there?
"It's a place like nowhere else in the world. The community that is built there is so different. I have never experienced spending time on your own like I did at Burning Man. Go to any festival in the world, and you are usually in groups. In Burning Man wherever you go there are people who will talk to you as if you are one of their friends. You are never alone. People behave as if everyone is a friend. There is no judgment of how you look, what you wear, everyone is accepted.
"You have a vibe you don't get anywhere else. Many people are on some sort of "good" drug. Drugs that don't make you feel the best of yourself, but empathic drugs. There is no aggression at any time. People are there thinking about other people. Aside from that you don't need to be on drugs. When I first got there, I expected it to be over-hyped, but the first time I went on the Playa, in the night, was unreal. Everyone had something on that was lit up, and it was like tripping without taking drugs. It has a huge Mad Max feel to it.
What do you do all day and night?
"You have classes on everything you can think of. We went to drama improv classes, or you can go to tantric courses; spiritual, non spiritual, classes on sewing, gardening, and so many weird things. There was a camp full of people who would catch people in a net if they were dressed as an animal. They would take them back to their camp and massage them, nourish them, and give them food. Everyone plays, but it's always meant nicely."
Money is worthless. How does that work?
"You have to bring everything yourself. You have to organize a lot of things before hand but it's really worth it. The fact that nobody has money in there, and that money is not used, is really great. It changes your way of viewing the world that you exist in. It's an anything goes world."
What does it do for your relationships?
"At first, I thought it would be better if you were single, but it's great to go as couples. There are a lot of classes you can take together. When you are in a happy relationship you want your partner to experience your great experiences, so it's wonderful to experience and share Burning Man with your partner."
Do you have problems fitting back into society when it all ends?
"That's a problem that many Burners face. I was told before hand that I shouldn't get stuck on it. You see the way that people live and communicate with each other, and it's so good you could wish for it, and don't experience it in real life. People start building their life around Burning Man and it doesn't work in the real world. Burning Man is a one week out of 52 week experience, and you are better off trying to take something away from Burning Man and have that make a good impression on your life."
Comments