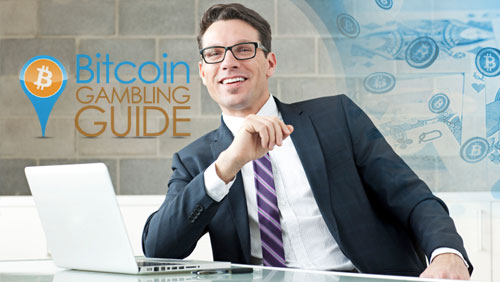 As we learned in last week's Becky's Affiliated, the online gambling affiliate industry has changed over the past ten years and the strategies used to generate significant revenue back then won't yield the same results today.  While the online gambling marketplace is becoming more and more competitive for affiliates, from my perspective there are several areas of opportunity that are ripe for the picking –  Asia, mobile and Bitcoin.
Let's focus on Bitcoin Gambling, a niche part of the online gambling industry that many professionals have yet to learn about, especially affiliates.  Seeing as Bitcoin is relatively new to the online gambling scene, there is still a lot of room for affiliates to come in and claim their stake in the market.  Bitcoin Gambling Guide (BitcoinGG.com) is an example of a portal that has already made a footprint in this innovative and growing niche of the industry.
Bitcoin Gambling Guide was launched in July 2013 when Bitcoin was just beginning to gain popularity and consumers wanted to learn more about the virtual currency.  The founders of Bitcoin Gambling Guide identified this opportunity and launched their site with the intent of educating gamblers and entrepreneurs on the intracacies of the Bitcoin gambing market.
One year later, Bitcoin Gambling Guide hosts hundreds of reviews, Bitcoin news, interviews, info-graphics, alt-coin updates and other information pertaining to the virtual currency market.  To find out exactly why the Bitcoin gambling market is so ripe for affiliates and how they can take advantage of the occasion, I spoke with Chris Evans, Web Manager of Bitcoin Gambling Guide.
Becky Liggero: Thank you for joining me today, Chris.  Let's start with what key information you provide to gamblers so they can make informed decisions.
Chris Evans: Available on our site are more than 300 reviews that unmask casino brands and software providers. We believe that we play an integral role in shaping our readership's decisions by detailing the pros and cons of each platform or product. Moreover, our bitcoin and other cryptocurrency news published from Monday through Saturday provide a better understanding of how certain events can affect the digital coin and online gambling, as well as bring various brands and operators closer to the audience. Besides these, we also have the must-knows or the fundamentals of Bitcoin and of using it to wager on games online.
BL: Got it.  What is the most popular feature of your website and why do you think this is the case? 
CE: We're happy with the attention our news is getting and we view this is a clear sign that the people are hungry for details and new developments that revolve around the bitcoin and online gaming markets. More surprisingly, we also witness a vast interest in altcoins. We are currently on the point where innovative products are released by the day, and we feel that the there is a constant desire to know more in order to keep up.
BL: Ah, interesting about the innovation in altcoins- I think it's a great thing.  Tell me, how does the affiliate commission structure of Bitcoin Gambling Sites compare to other real money gambling sites?
CE: Basically, in real-money casinos, the affiliates can have up to 45 percent rev share and around $300-$450 CPA. In the bitcoin markets, it's much different like the top offer can be 20 percent rev share, and no one is buying players for CPA. Also, the way the NRG (net gaming revenue) is calculated is different. Bitcoin gambling is still way behind the online gambling industry, but the knowledge gap is getting narrow every day.
BL: Yes, I'm sure Bitcoin gambling operators will catch up soon.  What would you say are the key opportunities for affiliates in the Bitcoin gambling space today? 
CE: The concept of bitcoin casino affiliation is similar with that of real money, with a few exceptions. For one, bitcoin affiliates earn in bitcoins, which means that the payment process is quick and convenient. Second, the bitcoin market is not yet densely populated, so there is a huge room for interested individuals who wish to indulge in this activity. Third, more bitcoin gambling websites are launched, and they offer their own affiliate program. Therefore, you basically have the freedom to choose how you wish to become an affiliate, and that's what's absolutely great about it.
BL: What is the biggest area for growth in the Bitcoin gambling affiliate market as you see it? 
CE: Well, it's still very young, and there are lots more of opportunities in different niches like poker, dice, and lottery even. Affiliates should look at the market in a different way and pinpoint ways on how they can approach it. Right now, more attention is given to Bitcoin poker, mainly because payments are absolutely fast without compromising the gaming experience. Bitcoin dice also shows huge potential for affiliation since many bettors appreciate the setup of placing smaller bets.
BL: Thank you so much for your time today, Chris – I appreciate it.