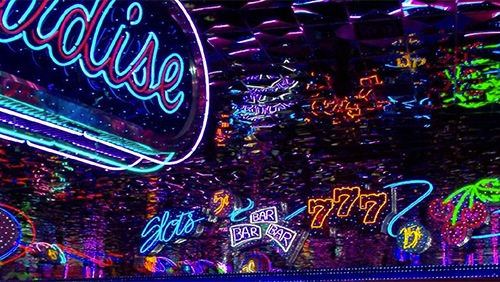 If you are anything like me, you were most probably awestruck the first moment you walked in to a casino on the Las Vegas strip. As a marketer, I'm permanently intrigued by the thought that goes into casino design—from the colour of the carpet to the lighting, to the perceived impossibility of finding the exit, to the scents used in the air conditioning to boost a visitor's experience. And then there's the slot machine. A remarkable cornucopia of flashing lights emblazoning my line of sight and accompanied by a soundtrack of over 400 carefully enticing electrified bells and whistles.
Sound and music are hugely powerful, evocative media, capable of stirring huge emotion and memory in an individual. No film script can stand on its own two feet with the absence of a quality score to accompany it post-production. The use of sound and music in casino games is an often overlooked aspect of the development process; I'll admit to it as an acquisition marketer, but it is as vital to a consumer's prolonged engagement and buy-in in a slot game as it is in a Hollywood epic. Sound effects are the principle cortisol-driver and the secret to prolonged player engagement. Rob Ramsden, founder of game designer BetFoundry.com, points out that no more so are sound effects more important than in the online space.
"In the comfort of the home-based gaming environment, the game needs to create the atmosphere, as well as create the excitement of wins of all levels. The background track tends to play a much bigger role as it needs to blend in with the atmosphere of the game, contain a rhythm that subtly sets a playing pace and yet cannot get monotonous.
It's not hard to comprehend the skill set of an iGaming sound engineer on the back of that. Any casino regulars will appreciate the wall of sound that greets you as you enter a casino floor. Ramsden explains that sound plays a very different part in the land-based environment.
"The land-based casino has a cacophony of sounds happening on the casino floor, helping to create a rhythm for a player to spin to. Consequently the background game track becomes a little harder to hear. In addition win sounds are also used to both reward the player, as well as to attract other players to the game so they often are a lot more brash and loud."
Win sounds have long been a controversial matter of game design, particularly when featuring in net bet loss. A study in 2013 led by Mike Dixon, PhD, professor of psychology, University of Waterloo, Ontario, Canada, concluded that sound effects play an important role in positive reinforcement, and consequently on psychophysical and psychological arousal level and stress response of players, with particular reference to losses disguised as wins—LDWs—a common bet outcome on multi-line slot machines.
Sound effects are not everyone's cup of tea. Some players turn the volume right down, others ramp it right up. Taste plays a big part of a consumer's decision making whether to try or stick with a game. Interestingly, Dixon's study seems to indicate that the influence of sound in slot gameplay impacts certain types of player more than others. Notably the moderate risk taking gambler and the problem gambler are most susceptible to believing they win more than they actually do under the influence of sound, compared with low or high risk taking players with no history of problem gambling. Dixon says overestimating wins can also have an impact on a player's memory of the gambling experience. "We all have a tendency to focus on our wins and discount our losses," Dixon iterates.
I support Dixon's findings and there is an inclination to believe that there are remarkably talented sound engineers out there capable of developing tones and tunes to zone in on the perfect customer. Games are designed to hit margin targets and moderate risk taking customers are precisely the audience to allow operators to meet these targets. They stick around, but provide sufficient margin favour for the game designer, the software aggregator, the operator and the affiliate to profit handsomely. Kevin Reid, of game developer 1x2gaming, stipulates that "sound not only adds a sense of excitement, it can be used as a tool for stimulating a customer's senses in the face of a bad run and extend the thrill of the gameplay."
Dietmar Hermjohannes of Gamomat Development echoes Reid, citing sound as being "like pepper on a good steak" when comparing the importance of graphics and sound. Hermjohannes stated, "Graphics are most important at the beginning of a customer's engagement – they have to catch the player when he sees the game for the first time, either on site or through a promotion. Sound effects get increasingly more vital during the game play – they have to bond the player to the game. Candy Bars from IGT is a game that does this extremely well."
So where can these sound engineer whizzes be found in the online slots world? Renowned affiliate and slots guru Ian Sims tells us to look no further than powerhouse WMS for quality sound effects, although his personal favourite are the sound effects supporting Microgaming's Immortal Romance.
It would be wrong to examine the importance of sound effects in game design – particularly when comparing online and land-based versions – without contemplating the fine balance of sound and vision in live casino game production. Prominent affiliate Neil Walker, of LiveCasinoComparer.com, gave me the lowdown on a corner of the market originally built to service a converging audience – one you might think might be most receptive to earwigging in on the buzzing sounds and mutterings of a casino floor whilst they play.
"For me, sound effects in a live casino environment ought to be all about information. I'm not interested in music or simulated sounds of a casino. I want to hear the sound of a roulette wheel spinning or cards being dealt sounds—and most importantly what the dealer is saying in a clear voice. Often the voices are stifled by simulated sounds. When that's the case, the game isn't happening for me and I move on to somewhere where I can speak and interact with the dealer more easily."
As an iGaming marketer, I look in wonderment at what the acclaimed casino designers such as Roger Thomas, who designed the interiors of the Mirage, the Bellagio, the Wynn and the Encore in Las Vegas, are able to achieve using media that stimulate every sense to appeal to a particular type of customer in a highly competitive, literally enclosed market and to maximize loyalty and value. Despite highly intuitive sound engineering in the iGaming industry, Walker's sentiments go a long way to show that, in many ways, varied audience preferences and habits – and indeed necessary game features—in an online gaming environment make replicating Thomas' success online sound implausible.