Lee Davy sits down with Dutch Boyd to talk about his first foray into the world of publishing: Poker Tilt.
Did you know that Dutch Boyd has written a poker book?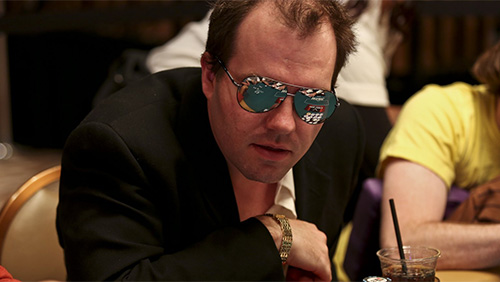 Do you care?
Well you should.
Poker players come in all different shades. I feel this when I interview them. The very black, and very white, give closed answers, emit no emotion and can bore the reader to death.
Do you want to read an autobiography from someone like that?
Then you have the colorful characters. The reds, blues, greens and yellows. These are the people who can't shut up during interviews. They are either coated in glory, controversy, or both.
Dutch Boyd is a part of this rainbow, and I can assure you he aint black or white.
His new book is called Poker Tilt. I haven't read it yet, but Boyd has just given me a special signed copy, so a review will be forthcoming shortly.
I can't wait to get stuck into it, but until then I have the next best thing. Dutch Boyd is sat opposite me during a break in the $2,500 Omaha/Stud Hi-Low.
So what is this book about Dutch?
"It's really about me coming up in poker. I talk about growing up and what led to the decision to become a pro poker player. There is some Internet start up chapters in there, about PokerSpot that I have carried with me for several years; coming up in poker with the crew, rooming with Antonio Esfandiari, and running around with Phil Laak for a while. There is a lot in there. There are also little kernels about strategy that I think will help people, particularly tournament poker players.
"I have quite a bit in there about something I call the Jungle Rule, which is something Amir Vahedi taught me before he passed away. It really has helped my tournaments a lot. The difference between tournaments, and cash games, or tournaments and shootouts, you see an almost implicit collusion between poker players where it's correct strategy, when you are sitting at a table, where you recognize players to be good, to stay out of each others way. Attack the weak spots, and then attack the new spots and there is almost a conveyor belt of chips coming your way.
"I also talk about a concept in this book, which is really relevant here. Imagine a big tournament where everyone is new to the game except Phil Ivey and Phil Hellmuth. By some random act the pair are sitting at the same table.
"Is this good for them or bad for them?
"If you think it's not good for them, then I don't think you are thinking about the question right. If you are thinking, 'Oh shoot there is another good player at my table,' you are not thinking about the question correctly. I think it's so much better for them to be at the same table."
So the book is autobiographical, with some snippets of gold dust in there that you don't think has been explored in print before?
"I definitely think there are some concepts, in this book, that have never been written about, and in the afterword I expose a pretty good tell I have never seen in print. But it would be misleading to say this was a strategy book because it's more autobiographical."
Did Boyd find it difficult to write a book?
"Absolutely, I found it difficult. It was a lot harder than I thought it would be. I can get out 2.5k words pretty easily on a blog, but when you are trying to commit something to paper where you are trying to write a 300-page book. That's completely different.  I was talking to the publisher, Anthony Curtis, and he said, 'Everyone has a book in them, and not everyone can get it out.' This is one of the hardest things I have done.
"I certainly wouldn't have done this if it wasn't for Kickstarter, and 100 people putting up the money to do the book. That and my girlfriend, Michelle, kicking my arse every day and telling me I had to write."
So was the Kickstarter project a strategic decision to ensure the fingers kept typing, or did Boyd need the money?
"Well we did need some money to get it done, but primarily it was to see if there was a market for it? If we hadn't funded that Kickstarter I don't think we would have finished the book? For a lot of reasons. We would have had to get jobs and we didn't want to be out of pocket for the publishing costs, but mainly had we not sold that many copies to the Kickstarters we wouldn't have thought we had a market for it. I didn't want to write a journal for my friends. I wanted to write a book that had commercial value."
Were you fearful of people's reactions to the finished product?
"Oh yeah, absolutely. You do make yourself quite vulnerable, and it's completely different from a blog or strategy article. These don't involve the commitment to read like a book does. At the end of reading it, you are either going to be happy you read it or upset you wasted your time. If I read your blog article and at the end of it thought that's a waste of 2 minutes who cares?
"Everybody cares what people think about them. We are social animals. The only people who don't care are sociopaths. So yeah, I care. I hope they enjoy what I wrote but I don't expect everyone to like it."
I noticed on Twitter that you circulated your first bad review.
"It wasn't that terrible of a review. I feel like it would be disingenuous to only focus on the good, and ignore the bad, so I don't' know why I tweeted it, but at the time I thought it was the right thing to do.
"If everyone loves it then I think I am doing something wrong. I was writing this with one person in mind. That person was my little brother, Bobby, and he said he loved it and that's enough for me."
Ok, let's get to this…
Chapter 1 – Building a Time Machine….