Paddy Power has always been one of my favorite brands in the online gambling space, run by some of my favorite people.  Its not surprising that the outstanding management behind Paddy Power are keeping on top ofemerging markets and dedicating talent today to evaluate the potential opportunities of tomorrow.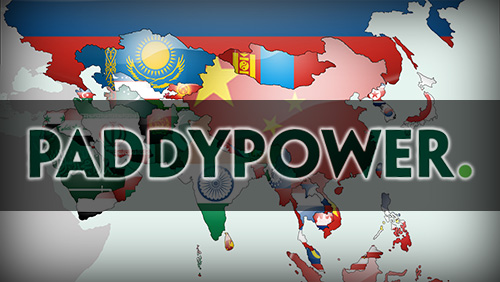 CalvinAyre.com have spoken with Eamonn Toland about his work for Paddy Power in the American regulated markets and Harish Narayanan about his work in Asia but I wanted to dig deeper with Narayanan.
Succeeding in Asian as a non-Eastern company is something we'd all love to master and sizing up the market is most certainly the first step involved.  The challenge here is that obtaining this information requires dedicated resources, so clearly there is a lot of up front investment needed if Asia is on the radar screen.
Already knowing that Narayanan is leading the path to Asia for Paddy Power, I wanted to hear exactly what he's doing to gather the right intelligence for his organization and why they have decided to tackle the largest gambling market in the world.
Becky Liggero: Thank you so much for sharing your knowledge with CalvinAyre.com once again, Harish.  Lets start with why Paddy Power, traditionally an Irish/European brand name, decided to dedicate resources and make a push in the Asian market?
Harish Narayanan:In my opinion, Asia is the future with several emerging economies showing consistent, strong YoY GDP growth and higher disposable income. Added to this the high propensity to gamble among many Asians (although I would like to refrain from generalising each nationality as they are very diverse) makes it very lucrative for operators like us to tap into this region. As stated before, Paddy Power has always been keeping a close watch on the goings on in this region for several years now. With some of the markets in Asia slowly starting to open their eyes to regulation, we think the timing is right to have a more focused approach to this region.
BL: We know that B2C offerings are your long term plans, but how to you plan to resonate your brand with the Asians, a very different culture than your bread and butter B2C markets?
HN: Brand is everything and represents what we are in the eyes of the consumer. Having built a strong brand in markets where we operate in helps us in winning the trust of consumers in newer territories where we are not present yet. No matter what region, the core values of the company and its people do not change. However, our marketing, our player acquisition strategy or the brand name itself may not be the same as in Europe, as can be evidenced from our operation in Australia where we operate under Sportsbet which is entirely owned by Paddy Power. We will have a localized approach to every region. But we will build on the brand equity and values of our existing and established business.
BL: Ah, yes- now that makes sense.  So until Asian countries actually start regulating online gambling, what kind of presence do you have in the Asian market?
HN: Currently we do not have any operating presence in Asia. Typically we spend a lot of time researching opportunities as that is the most important step and once we have a good grasp of the deal especially the risks, we dive right in. So we have a few pursuits now and are closely evaluating them. I cannot comment much on this at this stage. Getting a license and operating in that market is long drawn and the regulators in several countries are only now looking at legalising gaming in their countries. This is our longer term approach.
BL: Got it.  We know that finding a local partner is essential for success in the Asian markets and in your experience, how can companies go about finding these partners?
HN: There is no straight forward answer to this. One has to do a lot of research to understand the dynamics of each market, the key stakeholders there and this has to be done independently before even entering the market. We can then to a great extent know who we should talk to and then commence discussions with them. During this process one can assess both analytically and intuitively whether they fit in to their corporate gloves and vice-versa.
BL: So lets assume potential partners are identified.  I have heard that trust is essential when doing business in Asia and this must be hard to accomplish coming in as an "outsider".  Can you explain how Western companies can prove that they are "trustworthy" to their perspective Eastern partners?
HN: Again no magic cocktail here: broadly this works for me and I can only share that: Don't promise more than what you can deliver and be very honest in all dealings. Never refrain from telling them the painful facts/ truth/ reality  upfront even if it means it will kill the deal; it is better that the deal falls now rather than later and in most cases the local partners appreciate this and will come back to do business with you. Having said that how one communicates this depends on country to country.
BL: That's great advice Harish, thank you.  Taking a step back here, over the next few years, in what Asian countries do you think we'll see regulated online gambling and why?
HN: Singapore has taken a leap forward and we will see some activities there in the coming months. Countries like Vietnam have made announcements in the past about regulating sports betting (online) and we have already seen retail betting in the Philippines. India will take time and the bureaucracy there is a big issue.
BL: Well I guess we'll just have to wait and see how things unfold.  Thanks so much for your time Harish and best of luck with your project.