In the light of Sam Panzica's unsuccessful attempt to get his lifetime ban from Caesar Entertainment properties overturned, Lee Davy reminds everyone of the consequences that can arise from a simple loss of control.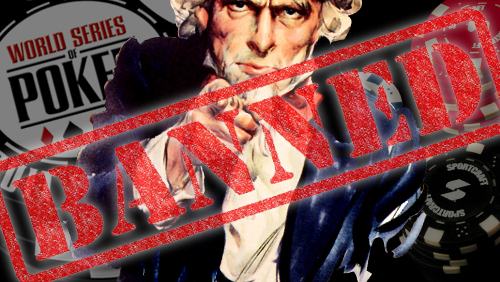 Do you want to be banned for life from the World Series of Poker (WSOP)?
I thought not.
Then read on…
Did you watch the Champions League semi-final second leg between Bayern Munich and Real Madrid?
Real Madrid were leading 1 v 0 from the first leg, and were slight favorites to beat the reigning champions on their home soil in the return leg.
The tie was effectively dead after just 37-minutes after Madrid raced into a 3 v 0 lead to give them a 4 v 0 advantage overall. The Germans would have to score five goals without reply in the remaining hour of the game and it just wasn't going to happen.
During this time there were two Real Madrid players who were walking a tightrope. Should they receive a yellow card in the game then they would miss the Champions League Final in Lisbon.
One of these players was Sergio Ramos, the most ill disciplined player in the Spanish game. Rather incredibly, Ramos continued to fly into tackles that he had no reason to and was fortunate to escape a yellow card offence after a reckless challenge on Philipp Lahm.
Xabi Alonso was not so fortunate when a stupid tackle against Bastian Schweinsteiger resulted in him receiving a yellow card and therefore missing a Champions League Final against Athletic Madrid.
For a professional footballer the only thing worse than this is to miss a World Cup final.
So why did he do it?
In the heat of the moment he lost control of his emotions, automatic pilot kicked in, and before you know it, he had made the biggest cock up of his life.
Is he a bad guy?
No.
He appealed and his appeal flopped against a stonewall and fell into the gutter.
There are no second chances in the world of the Champions League.
Was this a surprise to Xabi Alonso?
Nope.
He knew he would miss the final should he get booked and yet he still made that challenge.
Are you going to do the same thing at the Rio this year?
Sam Panzica is a well respected, and well liked, member of the poker community. In November of this year he was ejected from the Rio whilst trying to rail his good friend Ryan Riess.
The details are sketchy to say the least, but at the time of the incident DJ MacKinnon tweeted the following to Jimmy Fricke after Panzica had gone to social media to vent his frustrations over his ejection.
"Sam made a comment about having an AK47 and a foreign lady freaked out and went to security."
Panzica then replied, "Ya, and he put his hands around my neck."
In response to whether or not Panzica's actions were booze fuelled, he tweeted, 'FWiw I got kicked out of the main event rail yesterday for dropping a few F bombs not for being drunk.'
Panzica was later given a lifetime ban from all Caesars Properties, and this includes the World Series of Poker.
WSOP bracelet holder David Diaz, also received a similar ban when his drunk and disorderly behavior at a Caesars owned club also resulted in him receiving a lifetime ban.
Both players are probably regretting their actions and I am sure if they turned the clock back, the beer cans would have never left the fridge, and saintly behavior would have been the order of the day.
I am sure Xabi Alonso wouldn't have chopped down Bastian Schweinsteiger either.
In both cases the punishment doesn't fit the crime. It is far too extreme and in both cases the men and women who are responsible for creation of such laws should take a long hard look at them.
Xabi Alonso should not have to miss the Champions League final because he received a yellow card in the semi final. That rule needs to be changed.
Sam Panzica and David Diaz should not be banned for life for their actions. That rule needs to be changed.
Panzica has written to Caesars to ask that his lifetime ban be reviewed and he has since received a response that he did not want to hear.
"Vice President of Security, Mr. Thomas Flynn, reviewed the incident and is not willing to lift or rescind the trespass order. " came the reply.
The WSOP's Seth Palansky has gone on record with F5 Poker to say that these bans have nothing to do with the WSOP organization, and once a player is banned there is nothing further they can do irrespective of their love for the person involved.
Well I suggest you get involved.
Sam Panzica has a few drinks, gets too excited, loses control, says something stupid, gets man handled by security, reacts to that man handling and gets banned for life.
What if….
Daniel Negreanu has a few drinks, gets too excited, loses control, says something stupid, gets man handled by security, reacts to that man handling and gets banned for life.
What are you waiting for?
Are you waiting for the player profile to get a little higher before you push a little bit harder too get involved? Do you want a WSOP without Daniel Negreanu? Is it too far fetched to believe that Daniel could find himself in the same situation?
I am using Daniel Negreanu to make a point, and not because I think he has the capability to find himself in this mess, which by the way I believe anyone who drinks is capable of finding themselves in.
It's just going to look really bad if the rule changes when a higher profile player gets the boot.
So let's act now.
Don't accept that there is nothing you can do about it.
Do something about it.
Ban the idiots for one year, but don't ban them for life for making an idiotic mistake, sometimes at venues where you willingly ply them with drinks for free because you want them to get pissed up and dump all their cash at your tables when they don't know what they are doing.
That's just stupid.
Almost as stupid as the next guy who walks into the Rio, gets pissed up, causes a scene and then complains that they have been banned for life.
You have been warned.
Footnote: Since writing this article I have learned that David Diaz has had his lifetime ban rescinded by Caesars Entertainment which is really positive news.