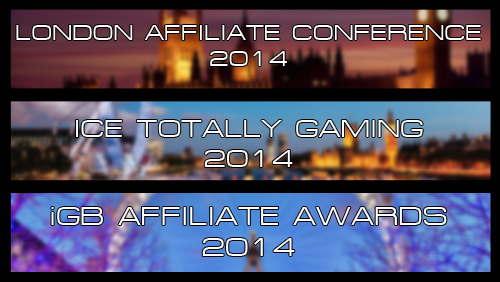 February is without a doubt the busiest month of the year for CalvinAyre.com and we're pretty sure a lot of you are in the same boat.  The real killer is all this busyness takes place over six consecutive days and nights in London, leaving most of us with the need to take another six consecutive days and nights off as holiday in order to recover.
All anxiety and anticipated tiredness aside, below you will find our featured conferences and parties of the month and the CalvinAyre.com team looks forward to seeing you there!
ICE Totally Gaming
ICE Totally Gaming is the biggest event of the year in London for the b2b gambling business.  The sheer size of the booths and exhibition space is mind-blowing in itself, with models, celebs and innovative products constantly flashing across your line of vision.  The expo and ICE Seminars are free to attend and the ICE Conferences come with a price, but without a doubt, if you're in London on these dates this event is not to be missed.
What: ICE Totally Gaming
When: February 3-6, 2014
Where: ExCeL
Register: online or onsite
London Baby! Party
London Baby is one of the biggest networking events of the year AND the drinks are free…for at least most of the night.  The party has been going on for several years now and with the very connected SBC and iGaming SUPER Show as the organizers, you can be sure a lot of people are going to be there.
What: London Baby Party
When: Tuesday, February 4, 19:30 – ?
Where: Folly Bar, Monument
How to get tix: SBC Stand ND6 and sponsor stands
Fire & Ice Pantheon 2014
The Fire & Ice party is a staple in the online gaming industry professional's calendar.  This party is the most extravagant London based event of the year, with hours of theatre quality stage acts, VIP treatment and a chance to spend time with peers, colleagues and friends.  This year the theme is "Pantheon", which according to Lyceum, "promises a night of mythological wonder and Grecian decadence…"
What: Fire & Ice Pantheon 2014
When: Wednesday, February 5, 20:30- 2:00
Where: Troxy, Limehouse
How to get tix: iGaming Business Stand ND6-C or show iGaming biz card at the door
LAC Opening Party @ Ministry of Sound
iGaming Business secured an evening for all LAC delegates at one of London's most notorious venues, the Ministry of Sound.  Guest affiliate DJ's will be spinning the tunes all night and for those who prefer a more relaxed atmosphere, you'll find that there too.
What: LAC Opening Party
When: Thursday, February6, 21:00-late
Where: Ministry of Sound, Elephant & Castle
How to get in: LAC wristband
London Affiliate Conference (LAC)
The LAC is the biggest and best event of the year for the online gambling affiliate industry, hands down.  iGaming business has experienced such growth in this event over the years that they've moved to Earl's Court to support the larger numbers of exhibitors and attendees.  There will be all sorts of activity on the conference floor, in the sessions and at the open bar, even a PR stunt or two if we're lucky….
What: London Affiliate Conference
When: February 7 & 8
Where: Earl's Court
Register: Online
iGB Affiliate Awards
The annual iGB Affiliate Awards is a night full of dinner, drinks, entertainment and fun, all while recognizing the success of affiliates and affiliate programs in our industry.  This year iGaming Business was able to secure comedian Tom Stade as a host and the theme is "circus", so be prepared to laugh and see some clowns.
What: iGB Affiliate Awards
When: Friday, February 8, 20:00-2:00
Where: Lancaster London Hotel
How to get tix: purchase online
LAC Closing Party @ Hippodrome
The LAC Closing Party always get a little messy as no one has to wake up to man a booth, speak at a session, attend a session, or make a meeting because the conference is o-v-e-r. The Hippodrome Casino is conveniently located in Central London's Leicester Square and open 24/7, so plenty of time to get drunk and lose all your money.
What: LAC Closing Party
When: Saturday, February 9, 21:00-late
Where: Hippodrome Casino, Leicester Square
How to get in: LAC wrist band
Intertops Sunday Session
We know it's a struggle to do anything at all after a week of conferences has ended, but the Intertops Sunday Session is worth the time and effort of peeling yourself out of bed.  This chilled out London pub environment is your chance to casually mingle with industry pals, enjoy a little hair of the dog and play some poker.
What: Sunday Session
When: Sunday, February 10, 13:00-16:00
Where: Zetland Arms, South Kensington
How to get tix: LAC wrist band