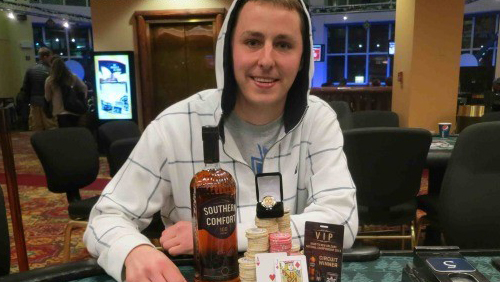 The World Series of Poker Circuit (WSOPC) continues to kick up a storm at the Horseshoe Cincinnati and I have four more events to bring you up to speed on. Here is the quick fire poker news from Ohio.
Event #4 was a $365 No-Limit Hold'em (NLHE) tournament that attracted 196 players, thus creating a total prize pool of $58,800. As it transpired, the event was an anomaly as there was still no winner to be crowned after 13-hours of Day Two action.
A third day was introduced, and after five hours of heads-up action, Chris Parsons overcame Warren Sheaves to take the $15,289 first prize and his second WSOPC gold ring.
"It feels good," Parsons said of his win. "Neither of us wanted to lose. [Sheaves] was a really tough player. We became pretty good friends while we played for eight hours. I almost feel bad winning because I know how bad he wanted the ring."
Parsons has qualified for the WSOP National Championships in the last two years, and he has given himself a great chance of making that three on the trot with his victory in Event #4.
Rabinowitz takes Casino Championship lead
Darren Rabinowitz has taken the early Casino Championship lead after securing victory in Event #5: $580 NLHE Six-Handed for a first prize of $19,664. His victory comes just a few days after Rabinowitz finished sixth in Event #1.
"This is my first time winning a live tournament," Rabinowitz said. "I have a history of taking second. I feel really blessed to finally get a [victory]. It's nice to know I can actually win."
Rabinowitz is in fine form, this year, after finding his way to two WSOP final tables and picking up a six figure score for a second place finish in a Deepstack event held at the Seminole Hard Rock Poker Open; his total career earnings now stand at half a million dollars.
Take Two for Karambinis
Chicago pro, Chris Karambinis, has won his second WSOPC gold ring after securing victory in Event #6: $580 Pot Limit Omaha (PLO) Triple Chance. 138-players contributed to a $53,000 prize pool with $15,902 going the way of the twice champion.
The victory was bittersweet, as Karambinis had to defeat his best friend, Kyle Adams, in heads-up action.
"It was tough to take it seriously when were heads-up," Karambinis said. "It makes it [less fun] to beat a friend. I feel bad for him because I know what it's like. It's tough to lose."
The journey to the summit was not an easy one for Karambinis. WSOP bracelet winners Aaron Steury (11th) and Leif Force (10th) just missed out on the final table, WSOPC winner Mark Fink finished in eighth and last years IP Biloxi Casino Champion Cory Wood finished third.
Robert Edelstein with his first career win
Robert Edelstein has earned his first-ever live tournament victory after outlasting a field of 163 players to capture the $22,008 first prize in Event #7: $580 NLHE.
The 32-year old former law student, has recently turned to poker to provide him with a living and this win will give him a timely boost.
"There are other things I want to pursue and do with my life," he said. "I definitely don't want to be playing poker professionally when I'm 60, but I want to be playing recreationally when I'm 80."
Edelstein took the title after defeating Mark Fink in heads-up action; it was Fink's second consecutive final table here in Ohio.
Comments