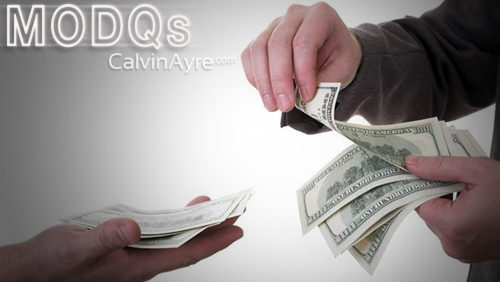 Paying out early is now common practice for bookmakers – especially in the United Kingdom. Rather than waiting for an event to reach its conclusion, happy punters are handed their payouts before it's over. It all seems like a friendly practice with customers kept happy but the decision to pay out in advance should not be taken lightly.
When it comes to bookmakers paying out early, few are better versed in this than Fred Done, founder and owner of Betfred – although it hasn't always worked out to well for him.
Done was the first bookmaker to pay out early back in March 1998 when the English Premier League season was nearing its close and all looked done and dusted with Manchester United twelve points clear of second place. But after having paid out Done had to watch on as Arsenal wiped out the difference and won the title by one point.
Despite this unfortunate turn of events for the Salford-based bookmaker, Done has continued to pay out on the Premier League title on numerous occasions including last year. In 2012 he paid out on Manchester United winning the title again – but once more was let down as Manchester City won the league on the last day of the season.
At the time of paying out, Done had confidently stated in a press release: "Back in 1998 Fergie told me to never pay out early again but Sir Alex need not worry, I've not got it wrong this time, United are past the post for a record twentieth Premier League title."
While that backfired, he did have more success this year when he paid out more than £500,000 early, again on Manchester United. This time it came good and many other bookmakers have followed Done's lead by paying out early in order to catch the eye of potential customers.
With Done admitting to having paid out more than £500,000 on more than one occasion as a result of paying out early, it's clearly a tactic that carries significant risk. Despite that, plenty of bookmakers seem to be doing it, so what is it that makes it so worthwhile?
Paying out for PR
Paddy Power is one of the bookmakers that have developed a taste for paying out early. They've even taken to doing so on transfers, another tactic that has been hit and miss so far. They recently paid out on Carlos Tevez moving to Juventus ten days before the move went through before paying out on Nani moving to the same club, only for him to sign a new contract at Manchester United.
Given the Irish bookmaker's reputation, it's no surprise that paying out early is now considered to be a PR stunt amongst many. In 2007 the bookmaker even paid out on a single rugby match between Ireland and England before kick off because they were so sure of the result. At the time chief executive Patrick Kennedy explained that he believed paying out early was attracting more customers who were betting more per stake thanks to the offers available.
The way Kennedy spoke about paying out early could lead you to believe that amounts lost would be built into the marketing budget, it is that engrained into the way that the Irish bookmaker now operates.
Mark Pearson, head of media at Betfred revealed that Betfred have certainly got plenty of publicity by paying out early, particularly in 1998 and 2012 when it's gone a bit wrong for them. They've been able to use this to their advantage with previous press release announcing that Done had paid out early yet again also included title odds for the next season.
Pearson added that the Premier League winners market is always one that's tended to be one of their more popular markets as a result. They've even managed to influence where the money tends to go on the market thanks to Done's payout history.
"If you back Manchester United, you never know if Fred might pay out early with him being such a huge Manchester United fan," Pearson added.
No more bets
As well as the most obvious answer above, the fact that paying out on a result allows them to stop taking bets on it is more than a handy coincidence. It means that rather than simply telling a potential customer that you're not going to accept their wager anymore, you can say that you've already paid out on it – presenting the answer in a much more positive light.
The long and short of it is that bookmakers aren't going to want to keep accepting bets on something that they're pretty certain will become true so rather than giving themselves a bad name by reducing odds or betting limits, to stop accepting bets in this way is the most sensible solution.
Aside from the cost of paying out on an outcome that hasn't come true, paying out early also creates added losses from the side that does win. The reason behind this is that markets stay open even once an outcome has been paid out on. From the bookmaker's point of view, they're accepting money for outcomes that they're sure aren't going to come to fruition.
But as Pearson explains, they sometimes do: "Fred paid out early on Manchester United in 1998 and even increased the price for Arsenal to win the league. We did it last time by keeping the market open on Manchester City to win the league so once we've paid out the market reopens again."
It's a double edged sword but, as Paddy Power's Kennedy explained, one that certainly doesn't inflict any serious damage.