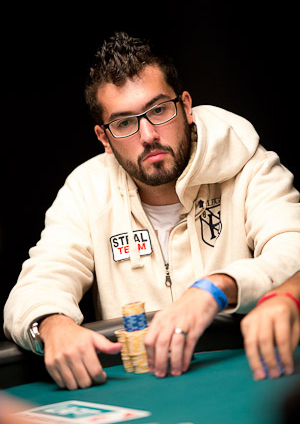 At the recent Latin American Poker Tour (LAPT) main event final in Brazil, all eyes were on the duo of Leo Fernandez and Andre Akkari to take down the title and $255,400 first prize. And why not, the pair are universally recognized throughout the world of poker. Fernandez is a member of that band of merry men over at Team PokerStars, and Akkari is a proud owner of a piece of wrist candy courtesy of the World Series of Poker (WSOP). But by the time the chips had been packed away and the playing cards thrown into the trash, the winner was Victor Sbrissa, who is not a household name…yet.
For once the EPT officials were facing a sweat, after a meager 108-players managed to find the €10,600 needed to participate in an event that easily hits the seven-figure mark reserved for top dog. Only 53-players made it through to a second day of action, led by Dan Smith, and fingers were crossed that everyone was busy road-testing super cars before entering the fray on Day 1B.
A total of 423-players turned up for the second starting flight, and despite the final total of 531-players falling short of the 665-players that entered last year – sweat has stopped dropping. As you would expect, it was a whose who of poker talent, sports stars and even people who can win £7.8 million playing seven hours of Baccarat. Yes, the man who sues casinos turned up to play but did not find the luck to go with his tremendous amounts of skill. Ivey did not make the cut and will have to wait for the High Roller action to start before he next falls out of his extra large bed.
The man leading the charge going into Day Two proper is that man Sbrissa. It seems his recent win in Brazil has given him the confidence – and the lolly – to cross the rather large body of water to spin it up with the big boys, and spin it up he is. Sbrissa finishing the day with 224,800 chips, considerably more than King Dan bagged and tagged (136,500) during Day 1A. Maybe it's time for him to become a household name after all – well maybe not?
At the time of writing play has crept into the 13th level of play and the experienced Freddy Deeb leads the remaining 153-players with the likes of Calvin Anderson, Noah Schwartz and Steve O'Dwyer also in close contention. Sbrissa has dropped down the pecking order but still remains in the top 20.
Comments