Mobile phone parts salesman Daniel Pidun and former Counter-Strike supremo Griffin Benger take the EPT Berlin Main Event and High Roller, respectively, for the best scores in each of their careers.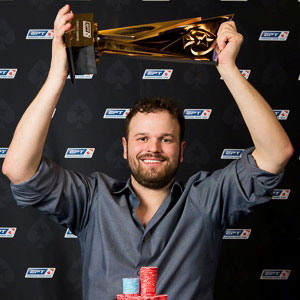 As the poker community casts a beady eye on the European Poker Tour (EPT) Season 9 finale at the Monte Carlo Casino, it's time for us to put a bold line under what proved to be another highly successful event held in Berlin. This time the robbers stayed away, and the only bullets we saw fired were from the very best players in the world, as they peppered street after street in the pursuit of bragging rights and a bucket load of cash.
German poker has risen to grandiose heights, in the past few years, and there were five of them at the final table when then €5,000 Main Event reached it's conclusion. The man who took the top prize of €880,000 was not even a professional poker player…its the genes surely?
Daniel Pidun spends the large majority of his days working in his mobile phone parts business, stopping to take a week off once a year so he can play in the most prestigious poker tournament Germany gets to host. Pidun isn't just pouring his money down the drain either, because in the past two years he has cashed for €72,000 including a final table bubble in last year's competition; a bubble that took a lot less time to complete than this year's event. Dashgyn Aliev eliminated in ninth place after six hours of bubble play.
The painfully slow penultimate day meant the final table started with blinds at 60k/120k with a 20k ante, and it was a predictably short and shrift affair with Pidun eventually finding himself heads-up against the most-experienced player at the final table in Robert Haigh. By this point Pidun had created a sizeable chip advantage over Haigh, who despite doubling up once, could not get the rub of the green needed when his ace-king lost the all important race against the nine-eight suited of Pidun, when he made a pair of eights on the best board he will ever watch unfold in his life.
The final table was devoid of any big name stars, but the same could not be said of the €10,000 High Roller event. Max Lykov, Martin Kabrhel, Griffin Benger, Aaron Lim, Philippe Ktorza, James Mitchell and Joni Jouhkimainen finding their way through a field of 136-players to create a difficult final table for players, and a wonderful cast for the lucky observer.
Aaron Lim is a man on a mission after recently adding World Series of Poker (WSOP) gold to his trophy cabinet at the recent WSOP-Asia Pacific event in Australia, and so it was no surprise when Lim found himself heads-up for the title. His opponent – and eventual winner – was the IveyPoker pro Griffin Benger. Benger gained notoriety when he switched codes from gaming to gambling to become the world number one online multi-table tournament player where he plays under the alias 'Flush_Entity'. Benger has been finding his feet in the live arena for the past 18-months and will be delighted to have finally proved that he has what it takes to conquer both disciplines, and on his birthday no less.
"I felt like a Boss, the best in the world. I felt really, really, confident. I had a huge edge mentally and I came in with a 6 to 1 advantage." Benger told PokerNews before continuing, "This is unbelievable! The best birthday present I may ever have, and I'm really excited to celebrate. Hopefully, it goes out of control."
Benger picked up €429,000 for his win, Lim picked up €240,100 and the Frenchman Philippe Ktorza was third for €144,000.
So with Berlin a long distant memory, it's time to look forward to Monte Carlo where we will see cash games organized by the EPT for the first time on the circuit, a €10,000 Main Event, €25,000 High Roller, €100,000 Super High Roller and lots of super-expensive food and drink propositions.
"I had a deep run last year, I like the city…although I don't like the cost of a Pepsi." Said Griffin Benger.