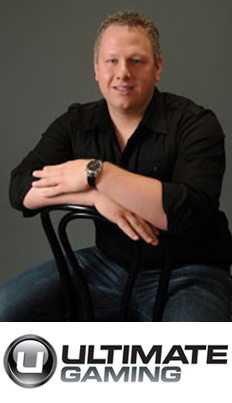 There is no denying that regulation of online poker in the United States is happening, it's just a question of how and when. In fact, companies that want to operate in the regulated US market are already setting themselves up for success in advance of the floodgates opening. With all of the moving parts and investment required up front, only a handful of online poker companies are able to prepare for this market properly. Ultimate Poker is one of the handfuls of companies.
To find out more about Ultimate Poker we sat down with Joe Versaci, an online poker industry veteran and the current CMO of Ultimate Gaming, the group that manages Ultimate Poker. In our interview, Versaci shares his extensive poker background, thoughts on US regulation, the process of obtaining a Nevada license, liquidity challenges, affiliates, land based and online cross promotional strategies and addresses the inherited brand recognition of "Ultimate" Poker.
RL: Thanks for joining me, Joe. Lets start by exploring your experience in the online gambling industry and how you got involved with Ultimate Poker.
JV: I've been a poker player for as long as I can remember. It's something that was a part of my life since I was a child playing my father and grandfather on the living room floor. My dad died when I was young, and I've always felt connected to him through poker. I'm blessed to think of my dad every day when I drive to work, and it's a big part of why I chose gaming as a profession. I discovered online gaming in 1999 when I took a job as a marketing manager for several online casinos operating out of Latin America. Back then it was mostly national print and pay per click campaigns, nothing like the level of marketing we see nowadays, but the potential was pretty obvious. From there I launched my own online gaming and poker portals, which is how I came to work at PokerStars. I spent several years at PokerStars as one of the first marketing employees in the company working from the Isle of Man and Toronto before leaving prior to Black Friday. I left because I knew I wanted to be a part of the start of regulated gaming in the US and that seemed like a long shot at PokerStars at the time. I took some time off from traditional online gaming to take a post at Virgin Gaming where I focused on eSports/competitive console gaming. Almost exactly one year later, I met Tom Breitling and Tobin Prior when I was asked by a friend to speak to them about product and marketing strategy. We hit it off instantly and within 24 hours I was on a plane to Vegas. After one meeting with Tom, Tobin, Frank and Lorenzo I knew this was where I needed to be and I've been working with Ultimate Poker ever since.
RL: Clearly you are very seasoned in the online poker industry; I can see why you hit it off with the management. Frank and Lorenzo Fertitta, or "the Fertitta brothers" as many of us know them, actually run Fertitta Entertainment, the company that owns Ultimate Poker. How will Ultimate Poker leverage its relationship with the company's land based casinos and UFC franchise?
JV: It's important that first and foremost we focus on running the best poker site possible. Offering players great games along with outstanding service and working to always innovate our product is how we will be successful. We're fortunate to have Station Casinos in our corner as we launch in Nevada. We will leverage their experience, database and understanding of the local market to become an extension of their brick and mortar business online. Their view of the world is very similar to ours at Ultimate Poker. They live and die on value, service and repeat business and so will we. We've focused on bringing in the best team in the world to ensure our rewards program and customer service are second to none.
The UFC is also an integral part of our growth and brand building strategy. As their exclusive online gaming partner we receive priceless global exposure for the brand in 800 million homes as well as credibility and access to their fans, who I learned long ago are the same guys sitting at poker tables around the world. I'd also be lying if I said the relationship didn't open doors or get the attention of traditional media companies. When your big brother is the fastest growing sport in the world you tend to get a lot of people calling or at least answering your calls.
For Ultimate Poker the relationship really hits the bottom line by driving down cost per acquisitions, but at risk of sounding like I'm preaching, it's really the players who will ultimately win. Lower CPAs will equal more rewards and of course there's the money can't buy prizing like strapping the belt on Jon Jones after a championship fight.
RL: Cannot argue with you there.  Why did you choose Las Vegas as your home base?
JV: It was a natural choice. Our company is an American gaming company from top to tail. We knew we wanted to be located in the US and help bring jobs, respect and transparency to US based online gaming. For us that meant Las Vegas where both the UFC and Station Casinos have their headquarters, and it's where we always expected it all to start. We will play and have a presence wherever US gaming goes, but for now we're representing local online poker in Las Vegas, Nevada…and I couldn't imagine a better place to be.
RL: Tell me about the process of getting licensed in Nevada, which we hear is quite a process, and when do you plan to start accepting real money players?
JV:  I can tell you about the process, but if I told you I knew exactly when we were going live I'd be lying. The fact is that Nevada is being very diligent and careful in their process for approving companies to deal real money poker online. We've embraced this process and will do whatever it takes to meet and exceed their standards and expectations. We know the world is watching Nevada and understand the responsibility of doing things the right way. That's why we've taken the approach of saying very little and letting the process run its course. I hope we'll be one of the first to market, for me personally, and for us as a company that would mean a lot. 
RL: We all know that poker sites need liquidity in order to survive and we also know that Nevada has a limited number of residents. How do you plan to tackle the liquidity issue?
JV:  No doubt we'll eventually need to look outside our borders to see continued growth. Whether that comes in the form of compacts with other jurisdictions or the tourist market remains to be seen. In the short term our focus is on bringing the fun back to poker. We feel the game has gotten a bit too serious lately. The idea of enjoying a great game of poker for entertainment has been a novel concept the last few years. We'll try to use our associations with Station Casinos and the UFC to offer players of all bankrolls and skill levels a great game with unique prizes that make playing fun again while naturally growing under-represented segments of the Nevada market.  
RL: So what are your thoughts on interstate compacts? What kind of conversations have you had with other iGaming-friendly states such as New Jersey?
JV: My preference is still for a federal poker only bill that allows for unified regulation and standards. To me this seems like the best way for gaming to wade into the US market, get comfortable and grow. That said, we are a complete gaming company and have an end-to-end solution for poker, casino, back office and integration of third party content so we'll play wherever there is opportunity and regulation. We are looking forward to seeing rapid growth in the US no matter what the regulatory framework ends up being.
RL: What is your plan for affiliates?
JV: One of the hardest things for me coming from a global company was getting aligned with the fact that the gaming world isn't what it once was. This impacts pro players, media companies, operators, and of course affiliates. The reality for us right now is we're preparing for one state and there's only so much we can do in a small market. I want affiliate relationships, sponsored players and large media deals but it's important for these companies to be patient and grow with us. My door is open to any affiliate or partner, but the reality may be that we need to grow the industry beyond a few states to have a legitimate chance of creating a healthy industry for US Affiliates.
RL: Why did you decide to appoint Antonio Esfandiari as your brand ambassador?
JV: I've followed Antonio for years and always respected his game and personality. He is magnetic and people gravitate toward him in a way that's very rare in this industry. He and Tom Breitling have also known each other for years and he was completely on board with what we are trying to do. All in all it was just a perfect fit for us and made total sense. I can't wait to see him make a deep run this summer sporting the Ultimate Poker patch.
RL: And now for the question we've all been waiting for… The Fertittas own the UFC, or Ultimate Fighting Championship. Clearly the name of your poker site, Ultimate Poker, comes from this relationship. But what about the similarity in brand name to UltimateBet, a poker site that has a tarnished reputation? How do you view this inherited brand recognition?
JV: I get it. I was an online poker player before I worked in the online poker industry and understand the power of trust and brand association. I've seen all the press and threads comparing the names and appreciate that it's a pretty irresistible card to play for the poker community at large. At the end of the day we just felt it was not right to back away from what we believe is rightfully ours. Our association with the UFC makes choosing the Ultimate brand a no-brainer and it's not in us to defer that position to anyone. We have no association with UB and hope that our team's experience and commitment to regulation will soon convince players that we are the real and only "Ultimate" poker company. We plan to represent poker players and provide the safest, most secure poker games online and that will be the case no matter what our name is. That said, I mean come on Ultimate Poker has a nice ring to it, right?