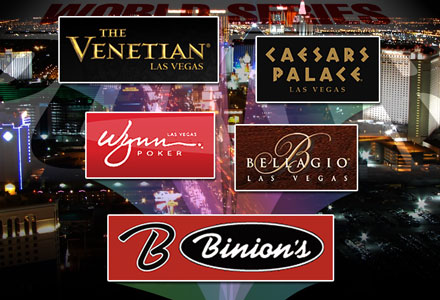 There was a time when the World Series of Poker was the only game in town. These days there are so many players in Las Vegas during the summer that all sorts of other properties have gotten in on the game, making it possible for anyone to play tournament poker for seven straight weeks without ever stepping foot in the Rio. Here's a look at five tournament series running concurrently with the 2012 WSOP.
1. Venetian Deep Stack Extravaganza
The Venetian was one of the first properties to begin hosting a summer tournament series that coincided with the big show over at the Rio. The room has one of the best reputations in the business, making the Venetian a popular place to play all summer long. The fields at the DSE tend to be pretty tough, possibly even tougher than the fields at the WSOP in some events. They're heavily attended by the online contingent, and even most of the amateurs who play there tend to have at least some notion of how to handle themselves at a poker table.
This summer's DSE schedule has a tournament at noon every day between May 24th and July 15th, including five two-day no-limit tournaments; 30 afternoon events, including bounty tournaments and Omaha events; and nightly $200 second-chance tourneys. The buy-ins for most of the noon and afternoon tournaments run anywhere between $400 and $1,100, with a few events ranging between $2,500 and $5,000 and one $10,000 High Roller tournament. With deep starting stacks and good structures, the Venetian's series is one a lot of players swear by.
The full Venetian Deep Stack Extravaganza schedule can be found here.
2. Caesars Palace Mega Stack Series
Do you like to play poker tournaments with lots of chips? With, dare to say, a "mega stack"? Then Caesars Palace's tournament series was made for you.
The daily noon Mega Stack Series tournaments won't win any prizes for variety since they're all no-limit hold'em, but the daily 4pm tournaments feature heads-up, shorthanded, and turbo no-limit formats in addition to the occasional pot-limit Omaha event. No matter the start time, none of the 92 tournaments on the schedule at Caesars from May 25th to July 17th gives players any less than 15,000 chips to start on the 50/100 blind level; most have 20,000-chip starting stacks, and some even players as much as 30,000 chips. The buy-ins are more affordable than some of the other series, too, mostly ranging from $130 to $350 with a few $560 tournaments also in the mix.
For players who want to play in the WSOP Main Event but can't afford its $10K buy-in, the Mega Stack Championship is a solid alternative. For $1,080 you get 30,000 chips, one-hour blind levels, and your choice of three starting days. The tournament also features re-entry until the 6th level each day – something you won't find at the WSOP ME – so a bad beat doesn't have to mean the end of your chance at big money.
View the full Mega Stack Series schedule here.
3. Wynn Summer Classic
If Goldilocks were looking to play a tournament in Vegas, there's a pretty good chance she'd head to the Wynn for its Summer Classic; everything about it seems to hit that "just right" sweet spot between all the others.
It features 30 tournaments – not too much, not too little – running from early June to early July. Most of the tournaments are no-limit hold'em affairs, but there are also limit hold'em and various Omaha tournaments on the schedule. On the spectrum of average buy-ins around Las Vegas, the Wynn Summer Classic falls right in the middle with lots of $340 events, a smattering of $550 and $1,070 events, and a $2,600 championship event. Most of its tournaments have 40-minute levels, while the championship's are 90 minutes long. And for most events the chip stacks, while deep, aren't quite "mega".
The full Wynn Summer Classic schedule is available here.
4. Bellagio Cup VIII
"This isn't just poker. It's poker at Bellagio."
So goes the Mad Men-like tagline for the latest summer tournament series at one of the most iconic poker rooms in Las Vegas. Even when you strip away its sales-pitchiness, there's something to be said for playing in a setting as gorgeous as the Fontana Room. And when you play at Bellagio, you'll almost assured to be playing against tough competition (the occasional whale notwithstanding) that can afford big buy-ins; nightly $40 tourneys these ain't.
If you're looking for a slate of different poker variants, the Bellagio Cup won't be for you; all 27 of its tournaments are no-limit hold'em. What it might lack in variety, though, the Bellagio makes up for with the rake; at just 10 percent for the lower buy-ins and less than 7 percent on the high-dollar tourneys, it's lower on average than anywhere else in Vegas. And if you manage to survive long enough to play at night, you'll get quite a background show when the fountain show begins outside.
You can view the Bellagio Cup VIII schedule here.
5. 6th Annual Binion's Classic
The birthplace of tournament poker hasn't played host to the WSOP since 2004, but that doesn't mean there's no action there during the summer. As its name suggests, this series is entering its sixth year, and the schedule continues to evolve. The games on offer for the events include stud, stud hi-lo, HORSE, pot-limit Omaha, limit and pot-limit Omaha hi-lo, and shorthanded no-limit hold'em tournaments featured alongside the old standby of full-ring no-limit hold'em. It's more variety than you're likely to find in just about any offline tournament series outside the WSOP.
There are 45 tournaments on schedule at this year's series; the vast majority of them feature buy-ins of $150 or $200, though there are a handful of $500 events and one with a $1,000 price tag. Perhaps not so unexpectedly for a series with mostly low buy-ins, the levels are a bit shorter than in some of the others – mostly 35 minutes, with some at 45 minutes and only the top-dollar events getting 60 minutes – and you'll only get a full starting stack in most events if you pay an extra (though small) "bonus buy." The good news is that the competition isn't quite as stiff downtown as it is at some of the Strip properties, though most players will still find winning a tournament at Binion's a challenge.
You can check out the full schedule for the Binion's Classic here.
Comments