It was no less than a month ago when the Department of Justice unsealed indictments against Hong Kong-based file-sharing site Megaupload.com, arresting the site's co-founders; Kim Dotcom (formerly Kim Schmitz) and Mathias Ortmann. Acting on what was initially a complaint by the Motion Picture Association of America, the DOJ and the Federal Bureau of Investigation allege that Megaupload and its related sites made millions in "criminal proceeds" by sharing pirated copies of movies, music and other content.
Teaming up, the DOJ and FBI arrested Dotcom at his $18 million estate in the emerald hills of Coatesville, New Zealand on 20 January, in what has to be one of the most elaborate arrest scenes in presumed-piracy history. Two helicopters landed in Dotcom's extensive garden labyrinth, besides an arrangement of life-sized giraffe sculptures, shortly before local police scuttled out bearing Bushmaster M4 rifles, Glock pistols, sledgehammers, and saws. This was all at the request of US officials who had extended their laws to New Zealand. While three FBI agents advised from a nearby police station, the cops arrested Dotcom and took away his luxury cars (of which the license plates read GUILTY, HACKER, MAFIA, and GOD) along with artwork and investments.
Despite the dramatic arrest – that now seems to have been a waste of tax payer's money – and being charged with three new criminal copyright counts and five new wire fraud counts, Kim Dotcom was granted bail by a New Zealand court yesterday. The bail would have been granted much earlier if it wasn't for two previous rulings against the Megaupload millionaire proposing he was an "extreme flight risk". Even after seizing millions of dollars worth of assets, law enforcement originally believed Dotcom had both the money and connections to get out of the country. However, Qiwi North Shore District Court Judge, Nevin Dawson, overturned the ruling yesterday stating that there was no longer any risk as they had confiscated every last penny he had and no alternative bank accounts had been uncovered.
Born in Germany in 1974 as Kim Schmitz, you could say Dotcom is quite the eccentric character. With ginger hair, the dress sense of a seedy magician from the '80s and what Bloomberg describe as a chubby cheeked "pear-shaped man the size of a refrigerator," Dotcom has had his fair share of sticky situations. Most recently he has been referred to as Megaracer, the Call of Duty Modern Warfare 3 gaming connoisseur who made it to the top stop of the leader boards for both Kills and Free-For-All (see video below for the sensational celebratory moment). In a 2001 interview with The Telegraph newspaper, Dotcom said he had his first PC by the age of nine of which he used to sell copies of computer games to friends. "I have a huge ego, I know that. Do I worry about it? No, I think it's cool. I have a lot of fun."
While most were busy celebrating their tender years of 18 with the odd house party or secret cider drinking in the local park, Dotcom was popping up as a personality in farfetched anecdotes around the internet as notorious hacker "Kimble" – a name adopted from the protagonist of The Fugitive movie. He was even featured in an article by Forbes magazine all about hackers. Forbes said he led a global hacker group called Dope, of which he had appeared in disguise on German television and had hacked into hundreds of company phone systems, none of them named.
It wasn't long before Dotcom was claiming he'd hacked into computers at the Pentagon and Citibank. And if it was true, he'd never been caught. However, German authorities did nab him profiting from a run-of-the-mill stolen-phone-card scam and in 1998 he was convicted of fraud, receiving a suspended two-year jail sentence.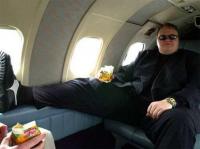 His legendary peculiarity as a hip hacker spread when he began appearing as Kimble across a variety of online photos and videos. Props were his thing, anything from Shotguns, sports cars, private jets, and helicopters — with no clue as to if he actually owned them. Gitta Saxx, a dark-haired Playboy centrefold, was his sidekick and would also play along and take part in the photos and online cartoons. One particular strip portrayed a James Bond-like character driving a "megacar" and "megaboat" to Microsoft headquarters, confronting Bill Gates who urinates in his pants at the pure sight of "Kimble Special Agent" who subsequently fires bullet holes in a wall spelling "LINUX."
Spoof videos were also one of Dotcom's trademarks. Clips of Dotcom and pals drinkin' and carryin' on emerged, one of which included shots at a party on a yacht and a chat in a disco with Richard Branson. The other depicted the Dotcom zipping down country lanes in a black Mercedes singing along to R&B classics such as "Rescue Me" alongside an exaggerated chuckle.
By 2001, Dotcom had won the Gumball 3000 international road rally, and had invested several hundred thousand dollars in struggling e-tail site LetsBuyIt.com. After publically declaring he was about to invest even more, the site's stocks sky rocketed and Dotcom sold his stake at a profit. As a result, he received another suspended jail sentence in 2002 convicted of insider trading.
After that time, Dotcom went out of the picture for a while. Well, that was until 2005 when he legally changed his name from Schmitz to Dotcom and launched what was to become one of the most popular and controversial file sharing sites, Megaupload.com. But even with an ego the size of his jean size, he has always insisted he made his millions legitimately. As Bloomberg reports, a friend of Dotcom, Keiwan Mir Heidari, describes him as fun loving man and "sometimes like a little boy who's stuck in the body of an adult". Dotcom's US attorney, Ira Rothken, calls his client "a really smart version of John Candy—an articulate, good-natured person."
It's pretty strange that Dotcom's arrest comes at a time when his unlaunched MegaBox; a spotify-esque site which planned to monetize on free downloads while at the same time paying artists 90% of revenues – all without any major label involvement. As Digital Music News reports, Busta Rhymes was in support of such a scheme and publicly announced via Twitter: "MegaUpload was actually a better deal for artists than Spotify".
Commenting on his bail release, Dotcom said to reports in Auckland yesterday he was "relieved to go home to see my family, my three little kids and my pregnant wife". He has denied any criminal misconduct, which if convicted would result in extradition to the US where he could possibly serve 20 or more years on charges of copyright infringement, conspiracy, racketeering, and money laundering for running a business that allegedly grossed $175 million over seven years from stolen digital content. Dotcom has said he will fight extradition by the US authorities.
When reading about the oddball that is Dotcom, it's hard not to be reminded of Richard O'Dwyer – the guy responsible for TVshack.net. The DOJ had been seeking to extradite from the UK since May 2011 in relation to alleged copyright infringement. His site was merely a resource, a third party linking site for alleged copyrighted material. Nevertheless it was a website which US law enforcement didn't agree with and on 12 January a UK Magistrate ruled that O'Dwyer can be extradited back to America to face the allegations. Dotcom's saga further supports the theory that US law enforcement is reaching beyond its borders, in an attempt to police the world. Will Dotcom's be story end differently to O'Dwyer's? If he doesn't have a secret strategy up his sleeve which would ensure a safe escape back to Germany during his time on bail then that looks very unlikely.