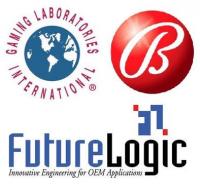 Slot, video machine, casino management and networked system supplier Bally Technologies has announced some big news today – launching its Remote Gaming Server (RGS) product for online and mobile gaming.
The RGS product gives punters access to Bally's library of casino-gaming content via a one-time integration. In a press release Bally said the product "will offer enhanced bonusing, proven play mechanics, progressives, and other outstanding features that only a company with more than 80 years in the gaming industry can provide."
John Connelly, Bally's Vice President of Business Development, said: "The Bally Remote Gaming Server allows new and existing customers to seamlessly integrate Bally games into their online portals. When combined with Bally's systems, the Bally Interactive products will deliver a single-view of the player – on the casino floor, at home, and on the move."
This technology will also be used as part of Bally's business-to-business social initiatives in supporting customers when entering the social-gaming space.
While Bally is busy launching mobile products, printer developers for the gaming industry FutureLogic has hired Ted Grevelis as its Business Development Manager for the Midwest.
In a press release today, the company said they hired Grevelis for his background in technical sales, sales management, new business development and account management experience
FutureLogic's Vice President of Sales and Marketing North America, Nick Micalizzi, said: "With this appointment, FutureLogic has strengthened its sales presence in the very important Midwest region of the U.S. Ted's expertise will be invaluable for bringing FutureLogic's world-class printers and intelligent promotional couponing solutions, as well as localized support, to our customers."
Before joining FutureLogic, Grevelis worked for nearly 10 years at IGT as Systems Sales Executive and Director of Sales.
In other gambling industry appointment news, gaming test labs Gaming Laboratories International (GLI) have hired two new workers to add to its recently created professional services group. Consultants Rodney Arsenault and Murray Lee will join GLI's Professional Services Team in Moncton, Canada. The group have done much expanding in the past year, with the company moving into the Asian lottery market late 2011 being an example.
GLI Canada CEO, Salim Adatia, said in a statement released by the company today: "Adding Rodney and Murray to our existing talent pool gives us the wider breadth of expertise and knowledge required to optimally service the consultancy demands of our valued clients, both in lottery and in non-gaming areas."