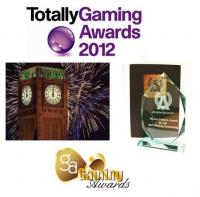 As the last week in January edges ever near, the momentum builds just like the pressure in bottles of the awaiting champagne towards one of the most important weeks in the iGaming events calendar. That's right, soon enough it'll be the iGaming industry's awards time.
The International Gaming Awards, the ICE Totally Gaming Awards and the iGB Affiliate Awards which will all take place in London Town are just over a week away. But those attending the conference week just have to have a favourite, right? Their MUST attend event that they are looking forward more than the others? Of course. So, for that reason we thought we'd find out by asking our readers the question: "Which is your MUST attend Awards show during the January conferences?" in our weekly poll last week.
The votes are in and here are the results.
Drum roll please…
The iGaming awards event with the highest amount of votes is the International Gaming Awards, receiving 40% of the votes. Did we mention yours truly is nominated for the Lou Fabiano award for industry publication/portal of the year? Not to blow our own trumpet or anything.
In second place was "None of them" with 32% of the votes. How disappointing. But it's okay, we understand. Not everyone can make these events. Either because of their "affiliate only" exclusivity or pure and simply; not everyone can make the trip over to London. Don't worry though, if you're not going we'll have plenty of coverage of the events in our video reports covering the ceremonies. It'll feel like you were really there!
Anyway, back to the results. ICE Totally Gaming Awards were polled third with 15% of the votes, iGB Affiliate Awards fourth with 6% and then coming in final place with 3% of the votes was the lucky few who are going to "All of them".
If you aren't lucky enough to attend them all, but you are attending at least one of them, don't forget to check out Becky Liggero's party schedule to work out when and where's your best chance to network and drink until the cows come home at the biggest part week in the centre of the iGaming universe.