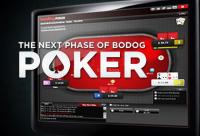 On December 1, the Bodog Network updated their poker software and introduced another piece to the Bodog Recreational Poker Model. Bodog Network VP Jonas Odman  has been talking about the transition of the Bodog Recreational Poker Model for two years and now that it's created a buzz among players and industry folks alike, everyone has an opinion. Some like it, some don't and some hate it with a vitriolic passion that would make even the most hardened YouTube commenter cringe.
The most obvious change to the software means all play on the Bodog Poker Network will be completely anonymous. The software removes all possible player identifiers so when a player sits at a table, it's impossible for them to know who he's playing against and impossible for his opponent to know who he is. This removes any unfair artificial advantage a player may have over another. Rather than go bum-hunting, poker players are forced to fall back on their skill, it's a novel idea but I think it will work.
Although we're an industry targeted news site, the large number of players took to commenting on our site to let their feelings be known about Bodog Poker's move to anonymous tables, although we couldn't approve many of them because of their venomous nature.
This decision is a controversial move and a move that sharper players took issue with. But clearly, Bodog didn't make the move to cater to the sharper players.
Forcing players to fall back exclusively on their skill rather than use technological crutches like poker tracking software's will make the game cleaner for everyone. As any poker player will tell you, poker is a game of skill and over the long term, skill will win out over the unskilled.
We haven't heard much chatter from other operators about the move but I'm sure they'll be watching closely. On the same day Bodog made their announcement, Microgaming announced they were following Bodog's strategy, at least in part.
The technology provider now gives poker rooms the option to offer anonymous tables in their poker clients. The move made was a reactionary one as the number of complaints about player tracking software such as PokerTracker have increased exponentially as more poker players rely on these technological crutches.
I think anonymous tables will increase as more operators realize the scourge of tracking software is bad for business as it gives a certain set of players an unfair advantage over others. Although, unless operators go completely anonymous, it might be a moot point as all data needs to be blocked to be effective. You can't be just a little bit pregnant.
Another eventual casualty of this move could be PokerScout.com, famous for their extortion demands to remove the Bodog Poker Network from their site. In a previous post on his site, Dan Stewart acknowledges that part of the data he used to create his site popularity rankings were fabricated.
When more poker operators follow the anonymous tables lead to guard against players using the tracking software, sites like PokerScout.com will need to rely completely on fabricated data. This will mean a decline in these sites' popularity and revenue.
We sent an email to Dan Stewart of PokerScout.com requesting for a comment but he has yet to reply.
I'm still surprised by the how intense the reaction is from a minor but vocal group of players. I won't repeat what many have said but I hope Jonas Odman has thick skin. I asked Odman about the comments and he told me, "The reaction was expected, people are passionate about poker. Even if you make the most perfect change, some people will disagree vigorously because it's change."
Despite the threats of account closures and "taking my money elsewhere", according to the Bodog Poker Customer Service manager, call volume is higher but they've seen no spike in payouts and only two people have followed through with account closures.
Time will tell if Odman's Bodog Recreational Poker Model is the right move but those complaining loudest about the move could be its biggest benefactors. If they're right, the forum poker players will have a stronger ecosystem to ply their trade. Net winners will always be net winners; they'll just need to hunt more fairly.