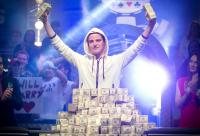 Not many people gave 22-year old Pius Heinz a chance to win as the November Nine approached. The young German sat seventh in chips, for starters. Then there was his live tournament poker resume, which consisted of one other final table at this year's WSOP and a turbo bounty tournament at EPT Barcelona. And then there was the fact that nobody in the poker world, where reputation is currency, really knew much about him. If it's hard out there for a pimp, it's even harder for an unknown German rounder.
But at least one poker insider tipped Heinz as a possible winner based on his style of play. In his preview of the final table, WSOP Media Director Nolan Dalla wrote, "Another aggressive player to watch out for is Pius Heinz, who showed no fear during the previous session leading up to the finale. Should Heinz accumulate chips, he will become increasingly dangerous." Dalla also pointed out that there was a bit of history on Heinz's side: over the last decade, six players who had begun final table play in the bottom half of the standings progressed to heads-up play, with three of them (Joe Hachem, Jerry Yang and Joe Cada) going on to win the event.
Of course, the only person who needed to believe in Heinz's ability was Heinz himself. Poker is a game where confidence goes a long way and the young German was filled with it as he marched from the short stack to the chip lead and, eventually, the championship. He made his mark in the early going of the final table by taking on the players who had been touted by all of the supposed experts. Despite sitting to the left of Ben Lamb, this year's WSOP Player of the Year and the very definition of a tough poker player, Heinz attacked Lamb's big blind from out of position with regularity. On one hand he four-bet-shoved on the American online star, Phil Collins, getting a fold from Collins and dragging a pot worth. Just a few hands later he stared down Ireland's Eoghan O'Dea for five minutes with more than 36 million chips in the pot before making the decision to raise all-in on the turn for his tournament life, earning an O'Dea fold and giving Heinz a significant chip stack to work with.
From there Heinz jumped back into the role of table aggressor, where confidence is not just important but necessary to help one endure the variance that comes with the job. His VPIP (a measure of how often he voluntarily entered pots) was at 36.5 percent for the final table, 9.5 points higher than any of his competitors throughout the first day of the November Nine; he entered three-quarters of those pots with a raise, and he was also the only player of the final nine to make a four-bet. Not every one of those moves worked out for Heinz, but his confidence allowed him to continue pursuing his strategy even in the face of setbacks.
His dogged pursuit of properly aggressive poker carried over to the final confrontation with Czech chess grandmaster and pro poker player Martin Staszko, who would duel Heinz for a total of 119 hands. Heinz started behind, holding 88.6 million chips to his opponent's 117.3 million, but he grabbed the chip lead in short order and kept his foot on the gas. There were times when he would've been better off hitting the brakes instead of flooring it with bad calls that let Staszko back into the match, but his significant chip stack helped him to avoid complete disaster. But his willingness to risk crashing hard is exactly what helped him to take what proved to be an insurmountable lead against Staszko
Heinz is just the eighth player from outside the United States to win the Main Event in its-40-year existence, and the first from Germany to claim the crown. It will be interesting to see whether his championship win has a big impact on poker in his home country, where the essentially unregulated online poker market very closely resembles that of the United States without UIGEA. It could be that young Germans will try to emulate their countryman in the same way that millions of Americans tried to become the next Chris Moneymaker back in 2003. Or maybe the German market is mature enough that Heinz's win will be more of a point of national pride than a market driver. Either way, there's one thing that's certain: players on the European poker circuit are going to have their hands full when the new world champion takes his game to the tables against them.
Comments