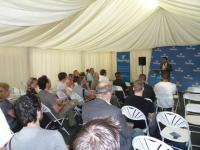 The first day of Poker in the Park 2011 has come to a close and what a beautiful day it was.
We all know Poker in the Park organizer Michael Caselli knows people. What we didn't know is that he is tight with mother nature because for five years in a row Poker in the Park has always had nice warm sunny weather in London, today included.
For the first time Poker in the Park took place in Hanover Square as opposed to Leicester Square and there were some mixed reactions about the move. Some preferred Leicester Square because it was more conducive to random foot traffic and attracted a larger crowd while some prefer the more intimate and tidy atmosphere of Hanover Square.
Regardless of who liked which location better, one thing was unanimous…everyone loved the bar with booze located smack in the middle of the poker, mahjong and chess activities. In fact, some came to Poker in the Park simply to grab a drink at the bar to catch up with friends, industry professionals, poker players and pros rather than play poker itself.
In addition to drinking at the bar, visitors enjoyed massages, poker lectures, the best hot dogs in London and general chit chat with industry professionals who were thankful for an excuse to leave the office early on a Friday afternoon.
For those who want more or simply did not get the chance to go today, you've got all day tomorrow to cash in on the fun and play some poker . Swing by Hanover Square anytime from 12pm until 9:30pm and receive free entry into the largest poker festival in Europe and get drunk while you're at it too. CalvinAyre.com will see you there!
Check out the pictures here.