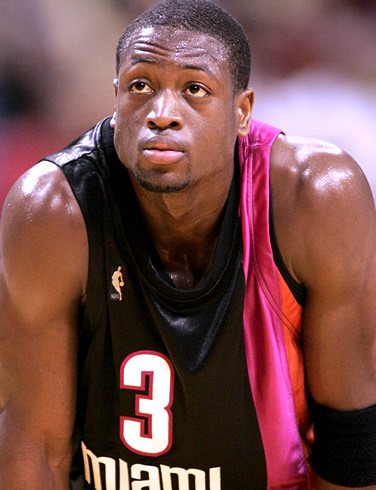 The Miami Heat are up 2-0 in their series against the Boston Celtics and while the team looks to replace the Celtics as the new Eastern Conference champions, Dwyane Wade is chasing his own piece of glory in the record books.
If Dwyane Wade scores 25 points or more on Saturday night in the TD Garden in Boston he will tie the legendary Kareem Abdul Jabbar for the most consecutive 25 point games in the playoffs against the Boston Celtics at lucky number 7.
This isn't your average record. Wade is approaching a scoring record that is held by one of the greatest players and the greatest post scorer of all time. Wade hasn't done it with the vintage sky hook like the great Jabbar, but he has done it with efficiency. Dating back to last year Dwyane Wade has torched the Boston Celtics in the Playoffs averaging 33.14 points per game while shooting 57 percent from the field over the course of a six game span.
The NBA playoffs are where true stars elevate their games and Wade has always fit that description since his 2006 NBA Finals MVP performance. In recent years Wade has been a one-man show with very little support from his teammates, this year he has the help of a back-to-back NBA regular season MVP winner in LeBron James and an all star forward in Chris Bosh.
It seems over the years that the Celtics and Lakers fortunes have always been linked. Ironically, both teams that were featured in last year's NBA Finals have found themselves down 2-0 in their respective series.
As for the Celtics, Saturday night represents a must win game as no team in NBA history has come back from being down 3-0. But unlike the Lakers, the Celtics will at least get an opportunity to even the series on home court.
Given the way Wade and the Heat have played the Celtics thus far in the series, who is really willing to bet that Wade won't tie or elcipse this record?
Comments