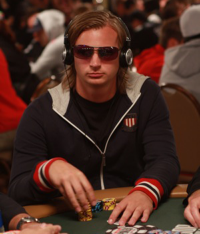 Wouldn't it be great if in every part of your life once one thing had gone it was immediately replaced by something very similar? Of all days Valentines probably reminds you of all those times in the past when the other half got rid of you and there was never one there straight away to take their place.
Thankfully, where mysterious Swedish poker players are concerned this is never likely to be the case.
The intriguing case of Isildur1 was solved late last year after the Swedish player, unmasked as Viktor Blom, signed an agreement with Team PokerStars Pro. This meant a rather large gap to be filled by the next mysterious character off the conveyor belt. The weekend just gone might have given us what we've all craved.
Dan 'jungleman12' Cates already succumbed to Isildur1 in the latest PokerStars SuperStar Showdown and now thinks he may have found the new Blom.
'Lindqvro' was involved in a skirmish with Cates over the weekend, on Full Tilt Poker, and surprised everyone when he jumped into $5,000 buy-in game with one of the world's best. It has set the rumor mill into overdrive; some thinking it might even be Mr Blom himself.
Pokernewsboy reports that Isildur1 can only be used on PokerStars meaning if Blom wanted to play elsewhere a new screen name would be required. The style was also noted as being similar to Blom but the now London-native has denied that it's him.
This points to his brother Sebastian who also employs a similar style and lives in Sweden. It might be time for the bookies to start taking bets on which person this might be!