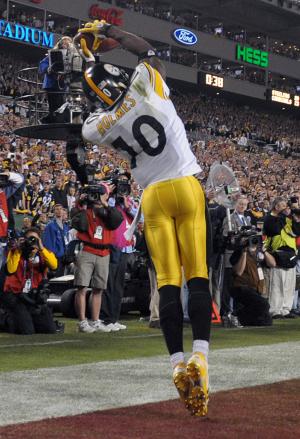 Aside from the extra hype surrounding Super Bowl XLV, that being the Super Bowl commercials, and the countless options for NFL betting and Super Bowl props betting; perhaps lost in all the hoopla is the fact that the Packers and the Steelers present one of the most evenly matched Super Bowls in recent memory.
With the Packers favored at just a field goal by most sportsbooks, this game could come down to one game changing play. At least, that's how I look at it. Remember when the Steelers beat the Cardinals? It came down to a bigtime playmaker in Holmes making a big play, and Roethlisberger making a perfect throw to win the game. Last year it was an interception late that sealed the deal.
So when I'm deciding which way I'm going to make my Super Bowl predictions, I'm looking at the playmakers for each team.
Green Bay Packers Playmakers
In the Super Bowl anyone can be a hero, it just takes one big play. But on defense, "Bloodline" Clay Mathews, Charles Woodson, BJ Raji and secondaries Sam Sheilds and Tramon Williams are the guys that need to continue to step up. You know Woodson and Mathews will be bringing the noise, but it's Raji that might just be the catalyst. It will be a tough assignment for the Steelers to keep Raji in check if Pouncey, the Steelers injured Pro Bowl center can't go. And if the Packers are able to get sustained pressure on Roethlisberger, then Sam Sheilds and Tramon Williams will have an opportunity to make game changing plays.
Offensively, the Packers are stacked. When Aaron Rodgers, Donald Driver and Greg Jennings are clicking, the Packers offense can't be stopped. But can they get their running game going with James Starks against the Steelers? If you don't know by now, no one runs against the Steel curtain. They've only allowed one 100+ rushing yards all season and that was against the Jets.
Pittsburgh Steelers Playmakers
On defense, the Steelers are solid all the way down the line. But no one on either side of the field is more of a play maker than Troy Polamalu. Remember last year when Harrison picked off Kurt Warner and ran it back 90 plus yards for the TD? Polamalu is a threat to do something like that on every play.
Offensively for the Steelers, everything starts and ends with Ben Roethlisberger. Of course, Rashard Mendenhall has shown signs of becoming a dynamic back, and Heinz Ward and Heath Miller are always solid, but it's all about Big Ben and his management of the game.
I've read all the previews, I've seen all the breakdowns, but when it comes time to put my money down, and make my predictions, my heart tells me to roll the dice and go with the underdog Steelers, who probably feel a little disrespected with that title. But I'll probably second guess that call when push comes to shove and regret losing that money later.
All I know for sure is that every time Roethlisberger plays in a Super Bowl, it ends with confetti falling from the sky and him hoisting a trophy.
Comments