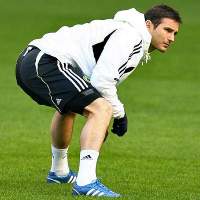 England play Japan today in their last friendly before taking on the United States in their opening match at the World Cup on 12 June and this will be a cakewalk for the Three Lions, even if they were poor against Mexico last Monday.
They may have won 3-1 a Wembley but England were outplayed by Javier Aguirre's side for large parts of the match and if Carlos Vela could shoot anywhere but straight at the goalkeeper, England might have ended up with huevas rancheros on their face.
As it is two goals by defenders and an offside handball by Peter Crouch gave Fabio Capello's men a slightly embarrassing home win, which makes you wonder what the point of them is in the first place. In pre-tournament friendlies players' always play half-heartedly for fear of getting injured, the opposition is always hand-picked from somewhere near Equatorial New Guinea and experimental line-ups make for the sort of quality football you see in the Hackney Marshes Under-10s Girls With Eating Disorders League.
And then you remember the point. You can bet on them. The only problem is, because of the above reasons, it's never easy to predict the outcome of a friendly. When the World Cup gets under way, betting is much easier to work out, but today, for example, with Tom Huddlestone in midfield, Darren Bent up front and Stand 'Between the Sticks' Hartley (or whoever) in goal where do you find your winning bet?
Well, firstly, England will win, because although Japan have a decent midfield on paper they haven't scored in their last four matches. Most recently they were beaten 2-0 by South Korea, after being tonked 3-0 by Serbia after goalless draws with South Africa and Venzuela. Thing is, at best odds of 2/7, you have to lump your mortgage on to get anything worthwhile back and, given Portugal drew 0-0 with the Cape Verde Islands last week (at 48/1) it's hardly worth blowing your World Cup stack on a side with a dodgy defence and Bent playing up front for you.
Considering England have conceded in their last three matches, are still fannying around with different options at the back and will be faced with the set-piece threat of free-kick specialists Sunsuke Nakamura and Keisuke Honda, it wouldn't be a huge surprise to see Nippon score. Don Fabio's men have won 3-1 in their last two matches and that scoreline isn't a bad bet.
With the in-form Frank Lampard back in the side in place of the rested Steven Gerrard, the Chelsea midfielder has got to be a shoo-in to score – especially as he is a penalty taker. So, if you've got nothing better to do this afternoon back Lampard to score at any time and maybe even throw him in with a scorecast bet.