Amanda Musumeci lands Bodog.com Poker sponsorship via Facebook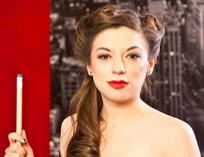 May 3, 2010 (KAHNAWAKE, QC ) – The hunt was extensive and the decision wasn't easy, but after opening the floodgates to fans on both Twitter and Facebook, Bodog.com Poker's social media-sourced hunt for an all new female poker pro has come to an end. Hundreds of dedicated Bodog.com Poker fans and players heard the call for applications and responded in droves. The quality and quantity of applicants was staggering and the final decision was an incredibly challenging one to make. After extensive review and deliberation, Bodog.com Poker is very happy to present to the world its newest female poker pro, Amanda Musumeci!
Amanda Musumeci, better known as "Manderbutt" to fellow online poker players, has been a regular MTT player at Bodog.com for a number of years and has racked up an impressive $175,000+ in winnings just by playing MTTs at Bodog.com. Originally from Philadelphia, PA, Musumeci moved to Kutztown, PA at the age of 19 to attend Kutztown University, where she majored in Speech/Mass Communications and minored in Political Science and Public Relations. It was during her time at Kutztown University that she first developed her passion for Poker, eventually turning her natural skill for the game into a means of paying her way through school. From there, a friend offered to send her to The Aussie Millions Poker Championship where she met and instantly became friends with noted female Poker Pro Anna Wroblewski. Shortly thereafter Musumeci found herself living in Las Vegas with Wroblewski, who took her under her wing, trained her and helped her get her start in the poker world. Musumeci has been playing poker professionally ever since.
Having started and played most of her online poker career at Bodog.com, Musumeci credits Bodog.com with helping her poker career blossom. So when a friend and fellow Bodog.com Poker regular, John Westra, sent her a link to a posting on Bodog.com's Facebook Fan Page just a few short months ago saying they were looking for an all new female poker pro, she jumped at the opportunity and it paid off big.
"When you respond to an opportunity like this, no matter how confident you are in yourself and your abilities, there's always a little nagging doubt in the back of your mind. So when Bodog showed a genuine interest in me, I was ecstatic," says Bodog.com's newest Poker Pro, Amanda Musumeci. "I've spent most of my online poker career playing at Bodog.com, and getting the chance to play as a pro for my favorite room was the opportunity of a lifetime. It also really showed me that, unlike a lot of other rooms, Bodog supports and invests in their players. I couldn't ask for a better home and look forward to kicking some butt in Bodog's name."
Musumeci, now known to the Bodog.com Poker world as "BodogMander", joins Veteran Bodog.com Poker Pro Evelyn Ng as a member of Team Bodog, easily the hands down most attractive team in the industry. Combine Musumeci and Ng's sultry seductions and feminine charms with their years of experience and finely honed skills, and you've got the succubi of the online poker world – two women as beautiful as they are dangerous.
To learn more about Bodog.com's newest Poker Pro, Amanda Musumeci, visit http://poker.bodog.com/team-bodog/amanda-musumeci.html.
Connect With Bodog
Twitter: www.twitter.com/bodog
Facebook: www.facebook.com/bodog
Flickr: www.flickr.com/bodog
YouTube: www.youtube.com/bodogcom
About BodogBrand.com
The Bodog licensing enterprise (www.bodogbrand.com) is a branded venture capital and licensing organization with its head office in the Caribbean nation of Antigua. BodogBrand.com holds the global rights to license the Bodog brand across all sectors, and its mandate is to partner with and/or license the brand to carefully-selected licensees to accelerate partner growth while simultaneously extending the Bodog brand into new and adjacent markets. BodogBrand.com currently licenses the Bodog brand to a variety of brand licensees for an array of products and services worldwide, including online gaming, music, and other entertainment properties.
For more information, visit www.bodogbrand.com.
About Bodog Europe
Bodog Europe (www.bodog.co.uk and www.bodog.ca) is the exclusive licensee of the "Bodog" brand for online gaming services within Europe and Canada, offering world-class sports betting, a thriving and dynamic poker community, and a full Las Vegas-style casino with more than 80 web-based and downloadable games. Bodog Europe does not offer gaming services within the United States of America and is regulated and overseen by the Antigua and Barbuda Financial Services Regulatory Commission, Directorate of Offshore Gaming, which was designated and recognized by the UK's Department of Culture, Media and Sport as a trusted, highly-regulated, "white listed" jurisdiction effective Nov. 3, 2008.
For more information, visit www.bodog.co.uk or www.bodog.ca.
Comments