iGaming Super Show Day 2 Party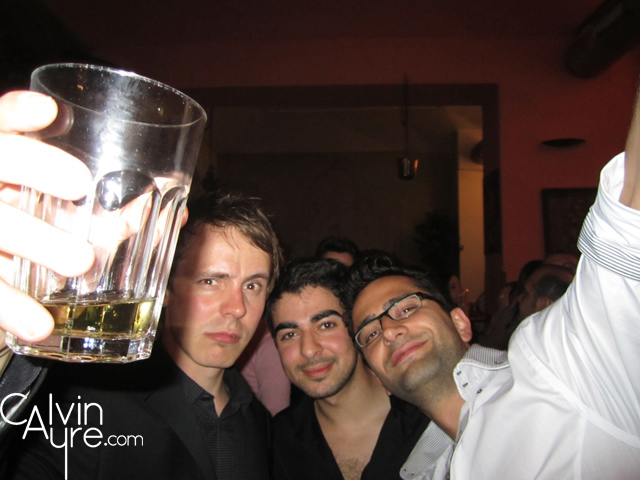 May 27, 2010 Martinicky Palace and After Party @ Bombay and Darling
Oh boy, where to even begin…right now it's 7:30am and I have officially been out socializing and partying for 12 hours straight, so please take mercy on me if my writing isn't exactly A+ at the moment, K? And here we go…
The night began at the CAC Affiliates dinner at Kampa Park, one of Prague's finest restaurants, and I knew it was a guaranteed fabulous meal as CWC Jonathan F. took the liberty of sampling it's product a few nights prior. After dinner we all headed to Martinicy Palace, a stunning venue near the Prague Palace thanks to the kind Czech folks behind Jetbull. Highlights from the party include a beautiful courtyard where the majority of the igaming crowd endlessly drank and smoked, an electric violin and DJ playing music on the second floor, a fun Czech bartender with a classic black mustache, and excellent igaming company all around.
After Martinicy Palace we hit up Bombay, a proper Prague club which actually included "real" Czech women if you can imagine that! Once it hit the boys that they were entirely too drained from the conference and realized it was just too much work to hit on girls, the crowd moved onwards and outwards to Darling, the iGaming SUPER Show unofficial official late night stripper bar spot which requires no real work at all.
Upon entrance into Darling, I think the collection of iGaming SUPER Show people in one place outnumbered the actual conference center attendee number and any given point throughout the working day- this place was CRAWLING with our people! We had drinks, champagne, tables, vodka, a female midget server (no, Calvin Ayre was not there), lesbian shows on stage, and one dude from the crowd who got on stage and was stripped naked in front of us all, but of course he was rather well endowed so he (and I!?) loved the whole experience.
Checkout for more PICTURES and DAF award from the iGaming Supershow Day 2 Party.