ELU - The European Lottery University Seminar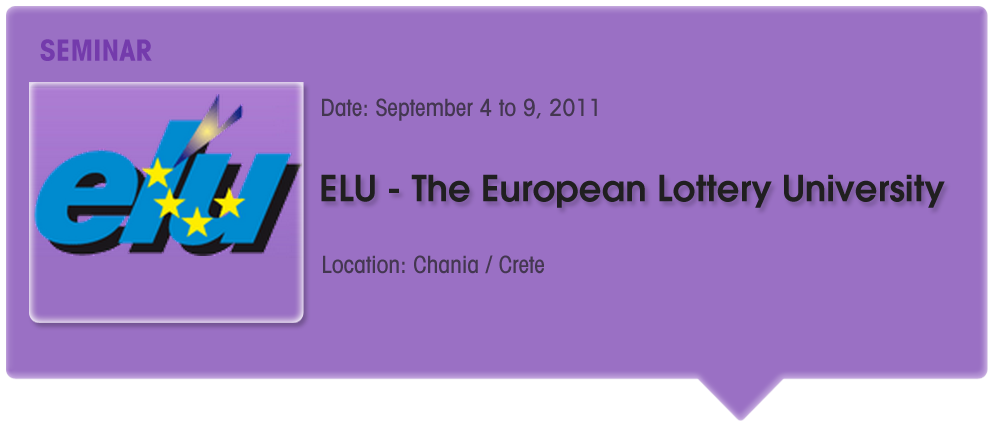 [buttonrow count="1″]
[button link="https://www.european-lotteries.org/events/register.php?id=100&event=2185″ copy="Website" onerow="true" target="_blank" /]
[/buttonrow]
The European Lottery University Seminar will be held on September 4-9, 2011 at the Grecotel Kalliston in Chania located on the Greek Island of Crete.  The events goal is to provide a training framework for newcomers to the industry. It also offers experienced participants the opportunity to enhance their skills, broaden their horizons and deepen their knowledge.
The European Lottery University Seminar is a unique opportunity for participants to network and exchange ideas and experiences and provides an expert and updated insight into business, the lottery industry and the gaming environment in general.
Attendees will participate in team projects and workshops. The case studies will prepare them to face real-life situations and teach them about the local culture and gaming environment. These workshops will broaden one's horizons and enhance general business and managerial insight.
Addressed to Lottery management and stakeholders, the European Lottery University Seminar's goal is to develop their talents in the world of lotteries and gaming. The program will include discussions about the diversity of lottery products, retailing considerations, and lottery organization and structure. Aside from those, there will be discussions about corporate performance evaluation, the future of state games, updates on the European Legal Scene, and more as well.
Confirmed speakers for the European Lottery University Seminar are:
Richard Bateson, Marketing Director of the Camelot Group.
Marc Frederix, Director for Marketing, Sponsoring, & External Communication for the National Lottery of Belgium.
The speakers will present their insight on key issues facing modern organizations such as corporate re-organization, technologies of the future. The speakers would also tackle the impact of public relations, and corporate responsibility.
To register for the European Lottery University Seminar, click here.