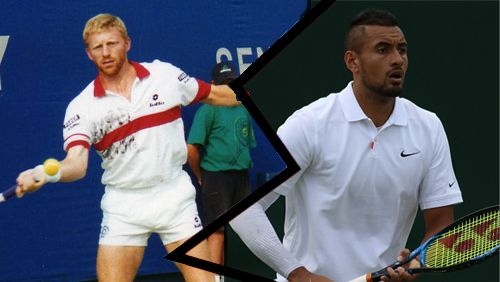 There's never a quiet week in tennis, but this is especially the case when two huge personalities clash over a hot topic. After the madness of the Adria Cup in Serbia, Australian bad boy of the game Nick Kyrgios attacked players such as Novak Djokovic and Alexander Zverev for organising or attending the events.
In the aftermath of that event, Kyrgios was proved horrifyingly prescient as Djokovic, Grigor Dimitrov and other contracted Coronavirus and were forced into self-isolation with COVID-19.
It would seem that six-time Grand Slam winner and three-time Wimbledon champion Boris Becker wasn't particularly pleased with Kyrgios' interest in the story.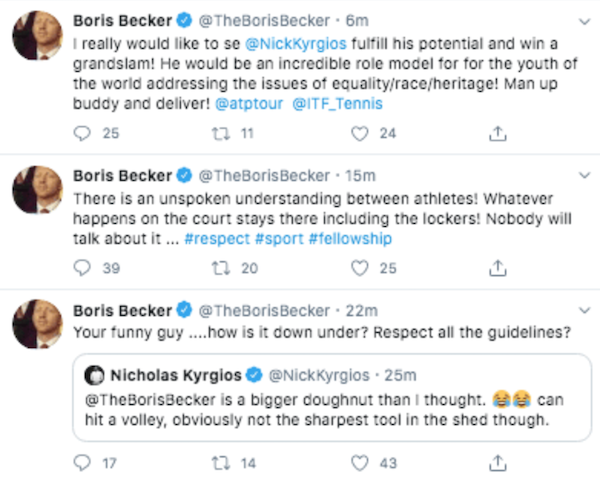 Asking whether Kyrgios had himself followed the guidelines around Coronavirus in Oz when everything points to the Australian having done so – including his condemnation of the forthcoming U.S. Open – seems odd in the first place, but goading Kyrgios about his own lack of Grand Slam success was inflammatory in the extreme.
The idea that Nick Kyrgios should keep his thoughts on fellow tennis players to himself when Becker himself was happy to tell all about his own volatile relationship with Novak Djokovic smacks of double standards a little, too. Becker was famously one of the stand-out stars of the 1980's, but in recent years, a bankruptcy battle and paternity claims have dogged the German. So who is the serve-volley superstar of yesteryear protecting with his comments?
If it's Alexander Zverev, it would make sense. Not only are both men German, but Becker might well feel a degree of paternal love towards a player who has lacked great leadership from above him in a career that at one point looked destined for greatness.
Becker won success on the tennis court too young in many ways. He wasn't emotionally or mentally ready to cope with just how good he was, or how readily he could dominate games, particularly on hard courts. It led to a failed marriage, controversies courted away from the tennis world that hinted at the persona being stronger than the personality, someone who wanted to escape the world around him to play tennis.
There are, as you might already have concluded, plenty of parallels between Becker and Kyrgios himself in that sense. As far as unfulfilled talent goes, there aren't many bigger names in tennis than Kyrgios. Yet to even threaten winning a Grand Slam, Kyrgios is already 25 years old and in danger of leaving his best physical years behind him.
Becker's accusation that Kyrgios is a 'rat' to talk about his fellow players in such a way, however, was like pouring a can of petrol onto an already raging fire. Kyrgios would clearly rather be a rat than a circular sugary breakfast treat, calling Becker 'a bigger doughnut than I thought'. That's a cross-court winner right there.
Kyrgios, who just weeks ago took to Instagram with Andy Murray to dissect the current tennis world and levelled criticism at Zverev in the process, did not react kindly, claiming that Becker got "sat down" in the conversation. Kyrgios' despair at Becker failing to grasp that the Australian would be criticising anyone who breached guidelines in relation to COVID-19 was evident. 'For goodness sake Boris" somehow didn't trend worldwide, but it's early.
Kyrgios ended his justification of him calling out of Djokovic and Zverev's involvement in the Adria Tour with a comparison between Zverev and a winged bird, in addition to stating that Becker himself wasn't 'the sharpest tool in the shed'.
It's hard not to love his honesty.
Whenever the COVID-19 restrictions lift, and the world celebrates a vaccine that allows everyone to travel and play tennis freely, it will be a huge success. It will also mark the end of a spectacular era of 'Tennis Twitter' banter, the like of which we might never see again.
All we really need now is for Nick Kyrgios to take up poker and offer Becker out with a 'heads-up for rolls' on Twitter and the Wimbledon Championships won't be missed at all.